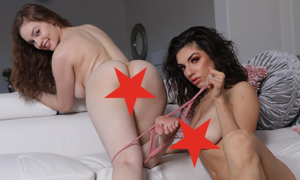 Mary Moody doesn't just light up the room, she brings the furnishings to life.
In a new video with Darcie Dolce titled "Sex on the Sofa With Darcie Dolce," the Penthouse Pet and all-around national treasure and DD give a white sofa something to talk about for decades to come. Few pieces of furniture have been host to two women so beautiful and passionate, and watching Mary writhe as Darcie expertly diddles her doowop is a delight that will have even the most literate struggling for words. Even Dostoevsky never managed to conjur up a description for libidinous loving such as this.
Mary Moody can do that to a person – obviously pretty much any person!
The new video is available on ManyVids – as are many of Mary's video-captured sexploits – and is the gift that keeps on giving. And if you want more of this insatiable pair, they also posted a video last month on ModelHub, "Shower Sex With Darcie Dolce," that will have viewers cumming right along with the stunning duo. They are each tremendous as solo acts, but together they are downright combustible.
Get to know Mary better with her Fleshbot interview, which was performed by Holly Kingstown, the industry's answer to both Rona Barrett and Barbara Walters. Tune in to hear Mary say sexy things such as this gem:
"There are so many beautiful women in this industry I would love to work with. I couldn't even begin to list them. Just know I'm constantly making new connections so I can make more amazing content. I would love to be more dominant on camera. I love being in control and make some femdom/findom fetish videos on my own. I would love to keep exploring that side of myself."
Oh, Mary!
Read the Fleshbot interview with Mary online.