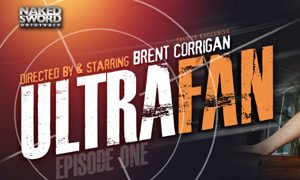 SAN FRANCISCO, CA — Today, NakedSword Originals presents a standout new series, ULTRA FAN, written and directed by Falcon Studios Exclusive Brent Corrigan. Corrigan also stars in this twisted and beautifully executed feature now playing exclusively on the Netflix of Gay Porn, NakedSword.com. In ULTRA FAN we see adult mega-star Brent Corrigan hasn't performed in years and instead finds himself doing a webcam show. Little does he know that a twisted 'Ultra Fan' has scandalous material that they intend to use in order to blackmail him and hijack his live cam show. A series of orchestrated events go from mild to wild to downright twisted and dangerous (in the vein of a Black Mirror episode) all in an attempt to force Brent back into the adult film business. Who is behind this master plan and how far will they go? The real question is how far will Brent go to save someone he loves? ULTRA FAN includes an all-star cast that was hand picked by Corrigan himself. ULTRA FAN stars in addition to Falcon Exclusive Brent Corrigan, Calvin Banks, Jack Hunter, Sean Duran, Dominic Pacifico, and Falcon Exclusive Dorian Ferro.
In Episode One we see Brent's live webcam show has been hijacked by his 'Ultra Fan' who wants nothing more than to see the superstar back in action. After being shown some incriminating material, Brent agrees to do as he's told. The fan has plenty of scenarios planned out for Corrigan to execute in order to fulfill their deranged desires. The night begins with a knock on the door – it's pizza boy Calvin Banks and his extra sausage. As instructed, Brent positions the web cam and begins sucking Banks' giant cock and it's not long before the two end up in an epic flip-fuck on the pool table in a stand out scene full of intense chemistry. When it's over Brent tips the delivery boy by shooting all over his face. Will this be enough to satisfy his Ultra Fan? Not quite… In the coming weeks watch what Brent's 'Ultra Fan' will do next to get their Brent Corrigan fix.
Falcon Exclusive Corrigan says of his new feature ULTRA FAN, "This was the most intense and creative production I've ever done in adult media. A big piece of my personal story or perspective gets put into every film I make. They tell us to "write what you know". A good storyteller connects to the emotional content and shares their unique view of life. That looks different for everyone. In the case of ULTRA FAN the concept came about a couple years ago when I returned to adult film but struggled to get my groove back. I think I was screaming for a sort of Superman, if you will. It turned out that I needed to find my own way in order to genuinely feel reconnected to the adult industry. ULTRA FAN is the product of that becoming a true reality for me today." He goes on to say, "I'm thrilled with the final product of this feature! It's the commitment and support from the Falcon Group and their production team (Kent, Scott, Max, Pam and D.P.) that truly makes this project the creative success it is."
This is the first adult feature that Corrigan has directed in 7 years. He's also directed 2 non adult features in the past and plans on doing more projects of this capacity in the future.
President of Falcon Studio Group and the NakedSword Network, Tim Valenti says, "Brent Corrigan is a superstar in every sense of the word. Not only does he look better than ever, but he's also more creative than ever. ULTRA FAN is a perfect example of that and he shines on every level, from the direction, to his performances, to the storytelling. ULTRA FAN is a fresh unique gay adult feature that will attract a lot of attention from many circles. We look forward to working with Brent well into the future."
Don't miss the debut episode of ULTRA FAN now playing on the Netflix of Gay Porn, NakedSword.com.