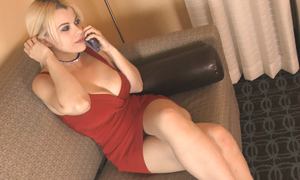 Busty bombshell Nadia White stars opposite Branden Richards in DickDrainers' latest boy/girl IR scene. The new release, in which a vulnerable wife bargains with a perverted intruder, is now available online through the DD official website.
After rich wife Nadia discovered that her husband did business with some very unsavory individuals — individuals who are now out to get him back by any means necessary — entering witness protection was their only option.
Nadia tries her best to reassure her husband after dinner. Even though his actions resulted in their lives being uprooted, she would do anything for him.
But Nadia's so focused on making him feel better that she doesn't notice the door to her hotel room opening…ever so slowly…
"Nadia's intensity is off the charts," said DD honcho Branden Richards. "It's very apparent how much she loves draining BBC — and she's VERY good at it! Her oral technique is literally perfect; she knows exactly how to make a man weak in the knees. I think the chemistry the two of us have is undeniable which is why you're going to see a lot more of her on Dick Drainers in the future!"
Nadia White said, "I had a wonderful time working with DickDrainers for the second time! Branden and I have great chemistry and we play off of each others flirty nature. This scene was intense, high energy, and enjoyable all around, most definitely at the top of my best blow job scenes!"