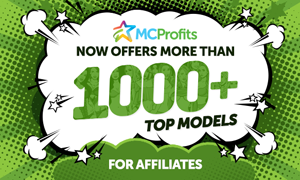 Cyberspace – Remember back in the day when you needed to scour the entire Internet looking for each solo girl site worth promoting, then contact webmasters one at a time to arrange link codes and promo materials? ModelCentro, FanCentro and www.MCProfits.com have simplified everything for you by gathering more than 1,000 top models together into one easy-to-use interface that comes completely stocked with all the promo materials you'll ever need to cash in on promoting their extraordinary talents to your online traffic!
"The easiest way to explain it is, MCProfits does all the legwork for you," explained Andrea of MCProfits.com. "Yes, you need to generate traffic and send it to these offers, but the days of trying to find girls worth promoting are finally finished. Now you focus exclusively on the task of bringing in customers without any worries about proper support, active update schedules, timely payments and all the rest because MCProfits has already put all that in place. Affiliates can now promote 1,000+ ModelCentro sites and Social Media influencers with FanCentro, make use of the new Discount Pricing options and S2S postback functionality as well."
Models continue to come on board at a brisk pace and in the next few months the platform fully expects to reach even higher milestones as it nears it's eventual destiny. "If you are a model seeking more sales and are willing to work in a professional way to generate content worth selling, you also should contact us right away. At ModelCentro, you aren't just model # 1,001… you are a significant partner whose charm, allure and content can reach a much bigger audience to generate a lot more revenue when paired with knowledgeable affiliates that bring in customers for you. That nexus between models and webmasters is where we can definitely help you the most."
Visit www.MCProfits.com to sign up right now, or to arrange a meeting in person with Andrea at the upcoming Phoenix Forum event visit https://modelcentro.com/meet/.