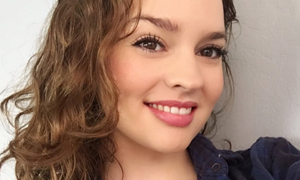 Mary Moody's first interview with AdultDVDTalk is live and even more sultry than many might expect.
She reveals herself as a laid back girl who likes jazz, going to the dog park and hasn't watched a lot of porn. When Captain Jack asks her what her favorite position is, she says kissing, and you get the feeling she's a little embarrassed by that, even though she shouldn't be.
"My favorite part of any of the videos I do is the kissing," she tells him."I know that sounds very lame and not very sexy, but kissing is probably my favorite part."
Of course, anyone would think kissing Mary would be beyond sexy. The Captain follows up, asks Mary what gets her wet. The answer is a good one – especially for anyone in the adult industry.
"A large part of why I enjoy webcamming is because I enjoy being watched by an audience especially while trying to have an orgasm," she says."That is really exciting to me and probably why webcamming was so exciting and fun. Having sex on a set goes along the same lines with the whole crew watching you."
She discusses her first scene, her favorite scenes, growing up in Northern California, going out dancing, webcamming, Star Trek and being dominant (but playing submissive on tv). Oh, and she doesn't bother buying bras for her very impressive 28G breasts, sticking exclusively to lingerie she picks up for work.
"I love being dominant and I've only been dominant in one scene so far," she says."And it wasn't like it was intense domination. I was just the more dominant person. But I got to be the one who controls the flow of the scene and I think just having more dominant roles would be exciting for me. I'm often cast as the young, 18-year-old girl who's never had sex."
Look for recent Mary scenes on Brazzers, which recently released "Roommates Like It Rough" with Mary and Molly Stewart, and Penthouse Pets' Dirty Desires,which pairs her up with Japanese sensation Marica Hase.
Read the full ADT interview with Mary!