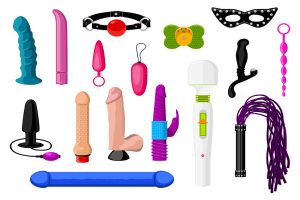 Data from Vouchercloud, a UK-based voucher website, recently showed that Sweden, Denmark and Greenland have the most frequent and prolific interest in sex toys – more so than Germany, Japan, Brazil and France.
Vouchercloud used 18 of UK-based manufacturer Lovehoney's most popular products, as well as search terms, to see how much each country's internet users searched for sex toys online. After culling the terms, putting them through Google translate and performing a litany of manual checks, they used Google's Keyword Planner to reveal search volume for each respective country. This revealed how many monthly searches over the last year each country had seen for the full set of sex toy searches and terms.
Is this methodology "perfect"? Probably not — but nothing is — and the results are quite fascinating.
Here are the top ten most-searching countries:
1. Denmark — Denmark had 118 sex toy searches per 1,000 internet users.
2. Sweden — Sweden came in just behind Denmark at 115 sex toy searches per 1,000 internet users.
3. Greenland – Greenland's data revealed 108 sex toy searches per 1,000 internet users.
4. United States – The U.S.'s data revealed 104 sex toy searches per 1,000 internet users.
5. United Kingdom — The U.K. came in at 96 sex toy searches per 1,000 internet users.
6. Netherlands
7. Russia
8. Bulgaria (Bulgaria?!)
9. Italy
10. Australia
Regarding these geographically-chilly results, "Our first thought was, naturally, it's a pretty good way to deal with the cold," Ben Harrow, who conducted the research for Vouchercloud, told Bustle.
"Denmark and Sweden weren't so much of a surprise, given the relaxed approach to life and society they offer up — that and the consistent high performances in happiness ratings. Greenland we have no answers for," he added.
Some of the bigger surprises, according to Harrow, were in the nations that did not rank in the top 10, including Japan, France and Germany.
With some locations, Vouchercloud thought it might just be an issue of supply and demand keeping them from searching for a fun new toy. "Europe was actually a lot closer together than we thought, but the rest of the world likely lags so far behind because there's just not the ecommerce to backup demand across a lot of the rest of the world — you aren't going to search for sex toys when you can't buy them!" Harrow told Bustle.
How can you connect with markets that are clearly looking for adult-related products? Possibly more importantly, how can you connect with markets that are not, for various reasons ranking high on assessment lists like Vouchercloud's? This data presents many puzzles and opportunities — get out there and solve them!
Read Vouchercloud's full report here. Image below via Vouchercloud.