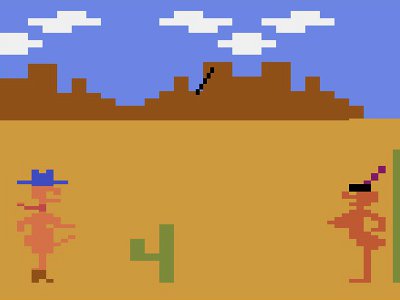 By Peter Berton
NORTH HOLLYWOOD, Calif. – Three examples of early pornographic computer games have been found, leaving modern gamers to suggest perhaps they should be lost again.

In 1982, a company named Mystique — a division of the company now known as Caballero Home Video — developed the games for the Atari 2600 game deck. Atari, scandalized by the whole notion, sued Mystique's parent company, and eventually the games were withdrawn from circulation.
Thanks to the IT wizards at PCmag.com, the three Mystique games have emerged from dark archives, and frankly, they're a testament to just how primitive computer gaming technology was back in the day.
Take Bachelor Party, for example: A naked block-man is sent into a virtual room of naked block-women. The player must guide the naked guy into every woman in order to win. Think Space Invaders with block-penises and block-breasts. Compared to today's realistic 3D modeled figures, the Atari versions are difficult to decipher and even harder [no pun intended] to consider erotic.
Philly Flasher isn't much better. In this one, a naked block-witch excretes "secretions" onto naked block-men ostensibly walking on a virtual sidewalk below. Donkey Kong it ain't.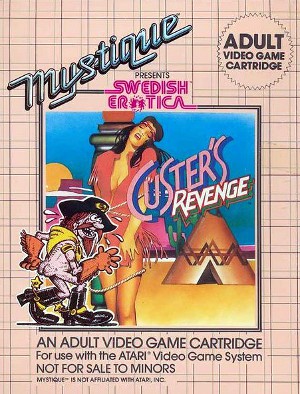 The most notorious of Mystique's X-rated Atari games was Custer's Revenge, also known as Westward Ho and The White Man Came. Again using Atari's side-to-side motion [à la Pong] in 2D, Custer purports to represent a naked and apparently erect infamous military figure attempting to sexually skewer an equally naked native woman — while trying to dodge black lines that may be arrows, bullets … or just black lines.
Despite their shortcomings [again, no pun intended] by today's standards, the games were the height of high-tech for their time. Custer alone sold more than 80,000 cartridges at $49.95 apiece before Mystique semi-voluntarily withdrew the games from the market due to a "family values" outcry and the threat of more lawsuits.
The more things change, the more they stay the same.