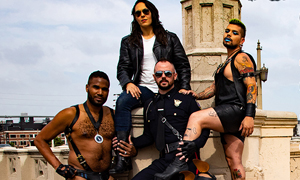 Los Angeles Leather Pride is coming soon – March 22-31, 2019. The exciting and fun gatherings you have come to expect – Kick-off beer bust, Assembly uniform reception, D.I.V.E.R.City discussions – are back again, plus even more! For 2019, the Southland Honors Awards reception returns to its origins at the ONE Archives, on March 23, the leading Saturday. And this year, the LA Leather Contest includes not just the studly men, but sexy women and Bootblack contestants as well. Check out our website, mobile app, and social media (@LALeatherPride) for all the latest schedule and event details.
Ticket packages are available NOW, as special discounted rates for early birds. Visit our site or LALP Tickets to get yours before they sell out!
We're looking forward to the exciting events of LA Leather Pride's XX Twentieth Anniversary! Please join us!