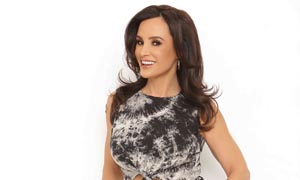 Adult industry icon Lisa Ann is a guest on the latest episode of popular podcast, Two Girls One Mic: The Porncast, hosted by Alice Vaugh and Yvette, where they got the scoop of what happened behind "Who's Nailin' Paylin?" and that one lifeguard porn where Lisa "saves" a guy in a bathtub. The trio also covered shaving butts and other healthy habits, her return to porn, predators, honing a career in a changing market, and new UK porn regulations.
"Lisa Ann was a delight to have on the show," says Alice. "In an ever-changing industry she's been a steadfast and sexy voice of ground-breaking work, good advice, and words of wisdom on butthole bleaching, all three very important things."
"I've been meaning to be a guest on the Two Girls One Mic ever since they had Tom Arnold on the show hilariously deconstructing, "Who's Nailin Paylin," says Lisa Ann. "I had a wonderful time and I hope my fans enjoy the discussion as much I did."
You may listen to the Lisa Ann episode, "Playing Ball with Lisa Ann," on Two Girls One Mic: The Porncast here.
You may follow Two Girls One Mic: The Porncast online , on Twitter, on Instagram and on Facebook.