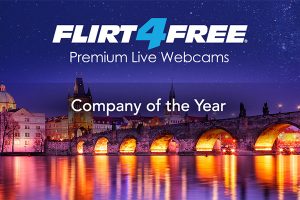 Westlake Village, CA — Flirt4Free has returned from the September trade show circuit with several prestigious awards in tow.
The European tour opened in Amsterdam, where top model Lindsey Banks took part in a panel discussion on sustaining growth in the highly competitive North American entertainment market. Banks, who recently cemented her already strong relationship with Flirt4Free by becoming an official brand ambassador, was thrilled with her new role.
"I'm so glad to have the opportunity to share my experiences with the cammunity," Banks said. "Shows like these build and strengthen the camming industry and bring us all closer together."
As one of the most successful independent models in the business, Banks offered attendees priceless insight on performance, self-promotion and the critical art of using of social media as a marketing tool.
In their 20 year history, Flirt4Free has made performer training, support and outreach a top priority. Following the Amsterdam show, the company joined Contour Studios in St. Petersburg for an enrichment workshop exclusively for Russian and Ukrainian models. Here, Flirt staff was met by longtime star, Izzi, who delivered his "How to Be a Webcam Soldier" seminar. A consummate professional, this presentation turned into one of the highlights of the event, as Izzi is as comfortable and entertaining on stage as he is on cam.
"We were so excited to reach out to our amazing performers from this region," said Jamie Rodriguez, Flirt4Free's Director of Product. "Meeting them face-to-face gave us the opportunity to show them they're a huge part of our family."
Another cam star and brand ambassador met Flirt4Free at their next stop: The 2018 European Summit (TES). The amazing Stefano joined Banks, Rodriguez and the Flirt staff as they nabbed Company of the Year honors and several other coveted trophies at the YNOT Award show on September 15. Stefano then went on to network with fellow models and industry reps during a social highpoint of TES — a riverboat cocktail cruise hosted by Flirt4Free and NMS Productions.
"It was fitting to have Lindsey, Stefano and some our largest broadcasting partners in attendance to receive these wonderful awards," said Gregory Clayman, Flirt4Free's President. "It's a team effort, and without the dedication and support of all our broadcasters, studios and affiliates working in the trenches with us day in and day out, none of this would be possible."
For information on any of Flirt4Free's upcoming trade show appearances, email sales@flirt4free.com.