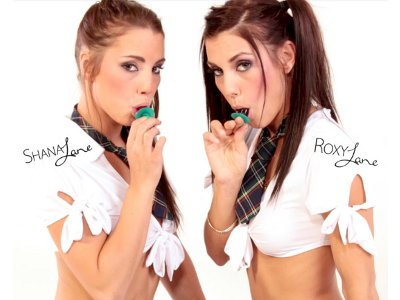 YNOT – Every guy's fantasy is to have two hot girls at once, but if they're smoking-hot Canadian sisters with thick French accents, that's even better.
Roxy and Shana Lane are cornering the market on the sister fetish and taking it to new heights with their online reality show that follows the girls almost everywhere they go: on film sets, inside their daily lives and on some pretty wild adventures. Members of OpenLife's Lane Sisters site can watch them racing cars, shooting guns, boxing, playing poker, cooking, bungee-jumping and camping.
Young, beautiful, active and vivacious, the Lanes are always up for thrill-seeking, try-anything-once sexcapades. They're social media queens who make their fans a part of the act.
We interviewed the two of them at the same time. When they said they do everything together, they weren't kidding.
YNOT.com: What is the age difference between you two?
Shana: I'm only one year younger than my sister. I'm 18.
Roxy: And I'm 19.
How did you come up with your stage names?
Shana: Well, we wanted sexy names, something that people would easily remember. Roxy was the first to come up with the Lane Sisters. The name kind of just came out of nowhere.
Roxy: Yeah, it just popped into my head! I thought it sounded sexy, yet dangerous at the same time.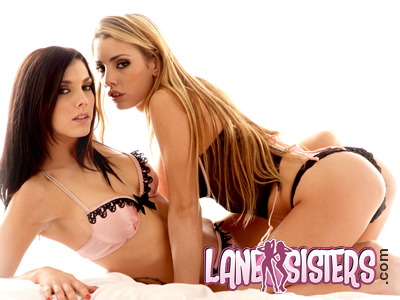 Is it weird to be in the same sex scene with your sister, even though there's no sex going on between the two of you?
Roxy: No not at all! Shana is my best friend, and I love her. We share everything with each other. It's actually fun.
Shana: I wouldn't have it any other way. Roxy and I are so close. We came from a very open family, so we are very comfortable with what we do.
You work in a genre known as "reality porn." What does "reality porn" mean to you?
Shana: Reality porn means that everything you see on camera is really who we are. We don't put on any act or play any roles. I am as fun and playful in real life as I am on camera.
Roxy: Yeah, Shana is as slutty in real life as she is on camera. [giggle] We also get to choose everything we shoot. A lot of the time we're not even in the studio filming, but shooting ourselves with our iPhones.
What is the craziest thing you've done on film?
Shana: Oh, wow! We have so much fun filming; there are quite a few wild scenes. If I had to pick one, I would say the "Loaded Guns" episode that's available on our website. It was so crazy. I shot this huge shotgun wearing six-inch heels, and I almost fell over from the kick back. My adrenaline was pumping so hard; I had never been so excited in my life. The huge orgy we had afterwards was insane! We were all so pumped with adrenaline; we fucked the shit out of each other.
Roxy: Oh my God, that was crazy. So much fun! But I would have to say that going to the racetrack was the craziest episode for me. I think we reached just over 200 mph in a Ferrari F430. I really love driving the Ferrari. Bungee-jumping was really fun, also. I have never had more intense orgasms in my life than the ones I had after being fucked after bungee-jumping. All the combined excitement just threw me over the top.
What was it like working with Tera Patrick? Did she give you any advice you could use?
Roxy: Working with Tera was amazing. Tera is the sweetest girl ever. She gave us a ton of advice on what it's like to be new in the business, what we should watch out for and how to be successful.
Shana: I love Tera, and I can't wait to work with her again. We had so much fun with her. She came with us to the racetrack and the shooting range. She's super cool, and I'm really looking forward to seeing her again.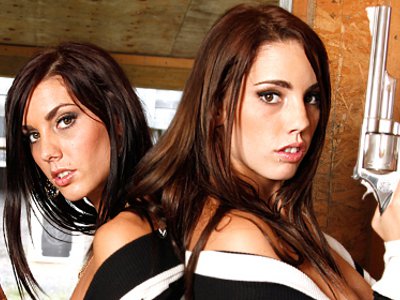 What have your fans have been asking you to do that you will be doing on camera soon?
Shana: We've been asked quite a few times to do a double [double-penetration] scene — one with me, Roxy and four guys. It will be our first DP scene together like this.
Roxy: I'm a bit nervous about this, but excited at the same time.
Is the adult industry what you thought it would be?
Roxy: It's everything and more than I thought it would be. The parties, the lifestyle, the travelling! It has been amazing so far. The OpenLife Studio in Montreal has been treating us so well. They let us work at our own pace, shoot with whoever we want to shoot with and choose what activities we want to do.
Shana: We've even gotten to do a few productions with Marc Dorcel in France, which was really cool. Other than that, this is everything I could have imagined. I absolutely love it!
Are there any performers that you're dying to work with and/or have a crush on?
Roxy: Oh yes! Peter North is my favorite. He is the cumshot legend, and I would love to experience it for myself. I'm dying to get something set up with him.
Shana: For me it would be Rocco Siffredi. I love Italian men. Rocco is so sexy, and I love his accent. But if Roxy gets to work with Peter North, I definitely want to be a part of that too.
What do you do for fun when you're not filming or webcamming?
Shana and Roxy together: Shopping! [laugh]
Roxy: Yeah, we're just like all women: We love to shop. I'm also very sporty, so I like to play hockey and soccer. I love watching movies with Shana and our dogs at home. We also like to go clubbing a lot.
Shana: I really like going to the beach as often as possible. That's why I like to travel whenever I can. If I'm just chilling, I like to cook, snowboard or talk to my fans on Facebook.
How can people reach you (email, Twitter, Facebook, etc.)?
Shana: We love talking to our fans, and there are a couple of ways to reach us. I'm on Twitter and Facebook. There's also a message center on my site, where fans can send me messages.
Roxy: It would be the same for me. I'm also on Twitter and Facebook.
People can also follow us both on Twitter @Lane_sisters or like our [combined] page on Facebook.
Want more Lane Sisters? Watch their safe-for-work trailer.