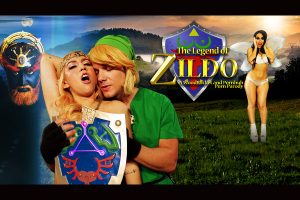 At long last, thirty-three years after the video game The Legend of Zelda debuted on the Famicon Disk System in Japan, there's finally a porn parody of everybody's favorite elven adventure.
Industry stalwart Woodrocket, known for its XXX takes on every pop culture moment from Hellraiser to The Lego Movie, released the thirty-minute parody The Legend of Zildo last Friday. Viewable for free on both Woodrocket.com and partner site Pornhub, as of this writing, the short film had already racked up nearly 24,000 views across both sites.
The Legend of Zelda is one of the world's most popular video game series, with nearly twenty spin-off games and other properties released over the past three decades, and there have been rumors flying for years about a possible Netflix series adaptation. Woodrocket, whose MO has long been to capitalize on pop culture trends by explicitly parodying them for both fan edification and spurring controversy, seems to have decided that Zelda's time had finally…come.
To be fair, there have already been a number of pornographic takes on this perennial fan favorite. There are a full 1,179 "Legend of Zelda"—tagged videos on Pornhub right now, most of which are fan-made animations. Still, Woodrocket's The Legend of Zildo seems to be the first porn parody to truly engage with the original by way of smirking references in the dialogue, silly names based on original characters, and even relatively well-executed costuming.
In The Legend of Zildo, harp music introduces us to Princess Zildo (April O'Neil), who has been kidnapped by the nefarious, blue villain Ganondong (Seth's Beard). With the help of a horrendously rendered talking tree, the elven hero Dink (Codey Steele) sets off with his horny fairy Vaggie (Gabriella Paltrova) and the Master-Bator Sword to rescue the princess. Naturally, hijinks of the sexual kind ensue.
Wanna get the feel for it without all the n00dz? There's a SFW trailer on YouTube. But though it's safe for work, beware: you still can't escape the bad acting!