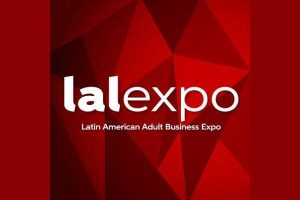 CALI, Colombia – The organizers of the LALEXPO announced today that last week's show reached a record number of sponsors and attendees, marking the most successful edition of the event to date.
"The sixth edition of Latin America Adult Business Expo was epic!" exclaimed the show's organizers in a post-show statement issued today. "More than 50 sponsors, businessmen, traffic companies, webmasters, studios, models and websites, were part of the more than 2,000 attendees in conferences aimed at informing about the latest trends of the industry."
Seminars addressed wide-ranging issues which face the adult industry, including SESTA/FOSTA, the legal landscape adult companies must navigate within Colombia, tools for growing successful webcam studio teams and producing content for the Latin American market, among other topics.
In another engaging session, actress Esperanza Gómez talked about the secrets to her success, the biggest challenges she has faced during her adult entertainment career and fielded open questions from attendees.
At booths around the expo, companies explained their latest innovations, talked about the keys to their growth, demonstrated new apps for models, discussed new payment processing methods available to the adult industry and showed off the latest VR technology in a "virtual reality lounge."
The parties were an integral part of LALEXPO, as well. Those kicked off with a Hawaiian Pool Party sponsored by BongaCams and Paxum. After the first round of seminars and the Meet Market, there was the FreeWebCams-sponsored White Party and the following day, Stripchat hosted the Fiesta de Salsa.
On the show's closing day, the LALEXPO Awards were held, a gala that recognized the efforts and achievements of cam models, studios and the broader adult community. The awards ended with the closing party Circus Jasmin, which dazzled attendees with a stage full of acrobats and vivid color.
Sponsors and attendees were effusive in their praise of LALEXPO.
"We were proud to co-organize the very first edition of our Jasmin Academy in Colombia, which we started to help all our partners, models and studios, to maximize their performance on Jasmin," said Guillaume Tanferri of Jasmin. "We closed LALEXPO 2019 with the now famous Jasmin Circus party, and based on the guests' reactions, everyone had the time of their life."
Shirley Lara from Chaturbate said that the organizers of LALEXPO manage to "outdo their brilliance and raise the event's importance year after year, based on skillful organization and a large number of business-minded attendees."
"LALEXPO brings thousands of adult industry executives and performers together, who are eager to get business done," Lara added. "Chaturbate highly values LALEXPO as the live cam industry market leader for South America. We are looking forward to the 2019 dates and those that will follow for years to come."
Chris Youngs, Business Development Manager for Paxum, said the "impact LALEXPO has had on Paxum's business is phenomenal."
"Every year the number of attendees increases and with more people comes more knowledge and diversity, and that makes attendance an absolute must," Chris Youngs said. "Paxum has supported LALEXPO as sponsors since its inception in 2014 and we appreciate the dedication of LALEXPO staff to always make sure our entire crew is well taken care of. Two huge thumbs up for this show that keeps growing and improving year after year. The next LALEXPO is definitely on our 2020 show schedule."
Liz Rekevics of Streamate noted that it was the company's third year in a row attending the event and that company "has been impressed with the organization, streamlined approach and heartfelt welcome by all organizers over the years."
"This year, show attendance was impressive, events were well planned and the flow at the expo center was great," Rekevics added. "We look forward to visiting Colombia and participating in LALEXPO for years to come."
"I finally went to my first LAL Expo in 2019 and was blown away in many respects," said Jay Kopita, co-owner of YNOT. "I regret not going to an earlier edition. The organization and quality of everything from start to finish was professional and completely on-point. I met many people I would have otherwise not met elsewhere and was able to close deals on the spot that far exceeded my costs for this trip. LALEXPO is now permanently on my schedule."
MojoHost CEO Brad Mitchell said that LALEXPO 2019 "exceeded all of my business expectations."
"Anthony and his team worked very hard and successfully executed an international conference with a superb educational track and amazing hospitality," Mitchell said. "I encourage business owners from North America and Europe to attend in even larger numbers next year, as opportunity abounds within South American markets. I very much enjoyed the cultural experience, also, the opportunity to amazingly have such easy access to the owners and decision makers from the largest cam companies in the world."
Norman Hauwert of Reflected Networks described LALEXPO as "one of the best events of the year."
"Anthony and his team really take that extra step to let you feel special and very welcome in Colombia," Hauwert said. "Most of the people you meet at Lalexpo are C-level and it is pretty easy to approach them and have a chat in an informal atmosphere. You say VIP? Well no other event will make you more VIP than LALEXPO, even we as a small sponsor got the full VIP treatment. From the airport pickup, to the registration, to the amazing parties, you will be taken care of as a real VIP. Reflected Networks will certainly return in 2020 and is looking forward to meet you there."
Dave from XloveCam dubbed LALEXPO "the most important adult industry event in Latin America."
"The show is extremely professional and a great place to do business," Dave added. "If you are looking to do business in Colombia, this is your one-stop shop to meet all the industry players. XloveCam.com has been in the industry for over 13 years and we have won consecutive Best European Webcam Site (2018 -19). At the LALEXPO event, we are always looking to grow our partnerships with all the models and studios."
Maria Boroghina, the COO of Best Studios, noted that it was the third year in a row her company has sponsored LALEXPO, which she described as "a top event in the  videochat industry."
"For us since our first participation in this event, it has meant an extraordinary experience from which we had so much to learn," Boroghina said. "What caught our attention in particular is the grandeur of the event, the number of participants and the number of sponsors and their involvement. The seminars bring added value to the event thanks to the speakers and subjects chosen."
Boroghina added that the live voting system offered within the awards gala "brought much transparency desired by everyone , showing real-time the chances of each nominee."
"In this way, a moment of suspense was created, which made it much better to receive the desired trophy," Boroghina said. "We will definitely continue to be present and sponsor the following editions."