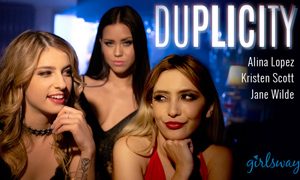 Girlsway presents the studio's latest all-girl Director Fantasy scene Duplicity, starring Kristen Scott, Alina Lopez and Jane Wilde, up August 20 at 
Girlsway.com
.
Written and directed by Stills by Alan, the drama stars Scott as a spoiled little rich girl at the center of a ruthless scheme by her family's maid (Lopez) and school friend (Wilde) after a long night of partying that went very, very wrong.
"It's about something I saw in the nightclub last night," threatens Alina outside Jane's hospital room. "Nobody's going to believe you," snipes Kristen. Alina holds up her phone with incriminating video: "Are you sure about that?"
"Just one bad decision can change our lives forever," said Stills by Alan of Duplicity's scandalous theme. "Kristen's acting was excellent – her behavior had to switch from carefree to concerned to callous, and Alina and Jane took to their roles with such enthusiasm. Fans will appreciate the suspenseful buildup that ends in an incredible three-way with these amazing performers."
The trailer and full scene of 
Duplicity
 is online and you find out more about its stars Kristen Scott, Alina Lopez and Jane Wilde at their official Girlsway model pages.