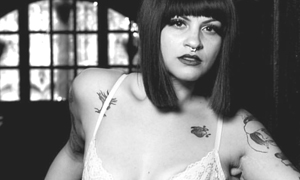 Kinktra in the Raw continues to be one of the most popular sex-oriented podcasts featuring adult performers, educators, directors, and more. This week, their special guest is the incomparable Professional and Lifestyle Mistress, BDSM Educator, and Fetish Performer Mistress Bettie Bondage.
Episode 32 – Haematophilia: With Blood Queen Bettie Bondage is available today on Jane Jett's site as well Spotify, iTunes, Google Play, and Stitcher. Bettie is even more beautiful than her namesake Bettie Page, but she's also quite demonic with her love of blood play, needle play, medical play, and pet play, as well as her lust for leather. If you've ever been curious about blood play, this is a show you can't miss. Bettie educates hosts Jane Jett and Erinn the Rawest in the art of Haematophilia (or, Haemotolagnia) aka blood fetish and how it can be sexually arousing, as well as dangerous, if not done correctly. So, listen carefully and take notes, because this episode is loaded with invaluable kink education.
"Bettie was an amazing guest and a true original—we've never had anybody like her on the show," says Jane Jett. "She's stunning and extremely knowledgeable. We are extremely lucky to have had her on our show, and I'm sure our listers will enjoy her take on kink, blood play, and much more."
Kinktra in the Raw is always looking for new sponsors to add to their repertoire. Join major sponsor Hot Movies and reach listeners from around the world interested in adult movies, toys, and much more. Rising stars and major players have been guests on her show, and the podcast's numbers go up exponentially each week. To find out more about sponsorships, contact Ms. Jett at msjanejett@gmail.com. Sexperts, sex gurus, and adult stars looking to be future guests on Kinktra in the Raw can use the same email.
To interview Jane Jett for your site, show, or publication, contact Erika Icon of The Rub PR at erika@therubpr.com.