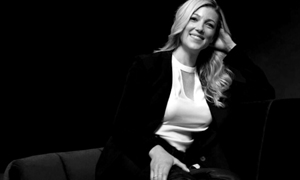 Fervor Fridays are hot and you can only find them on Jane Jett's Kinktra site.  This week, creator and CEO of B-Vibe, Le Wand, and The Cowgirl, Alicia Sinclair is profiled.
Alicia is a successful, sex-positive, multi-faceted, and award-winning sex tech entrepreneur, certified sex educator, and pleasure advocate that has received accolades in the adult and mainstream worlds. Jane interviews her and delves into a myriad of topics, including her conservative upbringing and her family embracing her career choices, what inspires her, achieving a work/life balance, beginner tips for sex toy newbies, advice for females on using their sexual energy, and much more. Read Alicia's interview, as well as previous editions of Fervor Friday at Kinktra.
"I have always been in awe of Alicia—she is an expert in many fields and has created iconic pleasure tools that have changed women's lives," says Jane Jett. "Alicia was one of my favorite interviews and I hope everyone enjoys reading her interviews and really comes away inspired and/or learning something."
Fervor Fridays feature pleasure tool creators, authors, educators, and doctors. It's tamer side of Kinktra that has previously spotlighted Alice Kass'Sabrina A. Cassis, Dr. Kay Meyer, Cory B, Maureen Pollack, Jodelle Duverseau, Adele Brydges, Goddess on the Go author Leora Edut, and Yoni Empire's Elena, as well as providing confessions and tips from Jane herself.
While you're on Kinktra.com, click on the Podcast tab to hear Episode 28 of Kinktra in the Raw hosted by Jane and Erinn the Rawest. Award-winning BBW adult performer Karla Lane is this week's guest. The show can also be heard on the show on Spotify, iTunes, Google Play, and Stitcher.
Sexperts, toy manufacturers, doctors, authors, educators, and others who would like to be featured on Fervor Fridays can email Ms. Jett at msjanejett@gmail.com.
To interview Jane Jett for your site, show, or publication, contact Erika Icon of The Rub PR at erika@therubpr.com.