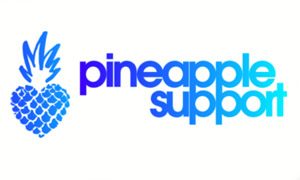 Pineapple Support is proud to announce that Kink.com will become a sponsor of the non-profit at the Silver Level, helping provide mental health resources for adult performers. Kink.com joins PornHub, ModelHub, xHamster, Clips4Sale, Gamma Films and other major adult companies in committing funds and resources to the organization.
"In a changing industry, it's imperative that we support performers," says Alison Boden, CEO of Kink.com. "In connecting performers to zero-cost, stigma-free mental health care, Pineapple Support helps create a more equitable, responsible and ethical workplace — and makes our industry stronger. We're proud to do what we can to assist performers, the lifeblood of our industry."  
In addition to donating directly to Pineapple Support, Kink.com will provide design and marketing services to the organization.
Pineapple Support was launched in 2018 by British performer Leya Tanit, and has connected over one hundred adult performers to mental health services including free and low-cost, therapy, counseling and emotional support.
"Kink.com has been an industry leader in its commitment to performer rights for over two decades," says Tanit. "We thank them for their commitment and generous support. Thanks to them, we can support more performers and raise awareness about one of the most pressing issues in our community."