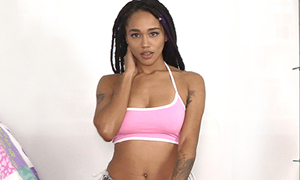 Gorgeous Julie Kay stars wth Branden Richards in DickDrainers' latest pervy boy/girl scenario. The new release, in which a free-spirited tenant mollifies a diabolical landlord, is now available online through the DD official website.
Julie just moved into a new place in a great neighborhood. Low rent, close to everything…it's almost perfect. The sexy 24-year old likes to cut loose. . . but with all the fun and freedom she's having, there's bound to be a little trouble.
For Julie, trouble comes in the form of her building manager, Mr. Richards. He's always writing her noise violations, sending her annoying letters about her smoking…he's a real dick. She's heard about him from some of the other female tenants — about how he flirts with girls in the most forward way possible, how he positions himself so they can accidentally see the bulge in his pants. . . and one girl even mentioned a weird ski mask he keeps around.
So, Julie is understandably less than enthused when she gets her third noise complaint notice! Even though she's sick and tired of creepy ass Mr. Richards, she decides to try and put her best face forward so that the two of them can resolve this situation.
"We had been trying to work with Julie for some time and it was definitely worth the wait!", said DD honcho Branden Richards. "Even though I had seen her work before, I still wasn't prepared for the messy, no quit performance she delivered! If you're a fan of messy blowjobs and sloppy ass eating, you must check this one out!"
The wet-and-sloppy 36-minute DickDrainers.com scene, "Perverted Landlord Blackmails Tenant Into Eating Black Ass!", is available for streaming and download here.