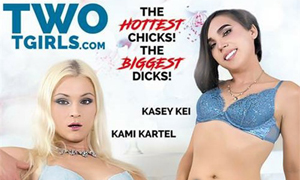 Two Tgirls and distributor Joy Media Group announced the release of their eleventh title, and second under their new exclusive distribution deal. 'Two Tgirls Volume 7' is now available at retailers across the globe.
Two Tgirls Volume 7 stars Kasey Kei, Kami Kartel, Aubrie Scarlett, Jelena Vermilion, Chelsea Marie, Aubrey Leigh, Bailey Love, and River Enza in four vignette style feature story lines. They include Cum On My Face, I Wish To Get Ass Fucked, College Girl Cumshots, and Roomate Gets Dominated.
According to Two Tgirls CEO/Director Mayumi Sparkles, "All of the girls did a tremendous job and really got into all of their roles. I'm confident our fans will especially love this new installment of the Two Tgirls series. We had incredible immediate feedback as soon as we unveiled the new box cover."
 "Two Tgirls Volume 7 just hit the street, and is already re-ordering. The hottest chicks with the biggest dicks! The consumers truly appreciate just how very special this top quality niche product is. Based on the incredible continued re-orders on all of our previous Two Tgirls titles. I have no doubt Two Tgirls Volume 7 is another huge winner for retailers." said Joy Media Group sales manager David Peskin.