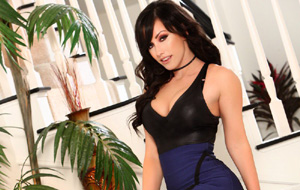 VENICE, CA – Just because Labor Day weekend has come and gone doesn't mean the fun is over. Next week the best place to get in on that fun is Pittsburgh.
Pittsburgh?!
Yes! The Iron City – Blush Exotic Gentlemen's Club & Sports Bar specifically – will be hosting Jennifer White as the porn legend takes the stage for a head-turning 5 nights the famed club.
Jennifer will perform two shows nightly, 10 pm and midnight, Tuesday through Saturday, Sept. 19 through 23. That's 10 opportunities to catch one of the industry's hottest stars of stage and screen.
"I'm so happy to have such a long stint at Blush in Pittsburgh," Jen said. "I'm going to settle in and will totally be a local by the end of my stay. Go Blush! Go Steelers! Yay Pirates! I'm just getting started, just you wait! Come see me!"
With Jennifer so eager to become a Pittsburgh local it's only polite that folks would get to know her a little bit, too. Best way to do that is to check out her latest and greatest work in her chosen field.
One of her most talked-about scenes of 2016 was in Burning Angel's Jews Love Black Cock with Taurus and Nat Turnher. The movie was reviewed in the September issue of AVN by longtime workhorse/Senior Editor Peter Warren who named it an Editor's Choice and crowned it with a 4.5-star review.
He writes that Jen's scene is a "definite standout" and the movie "one for the ages." Go to http://www.burningangel.com/en/video/Jews-Love-Black-Cock—Part-2-Scene-01/124070 for more.
Also take a look "Neighbor Affair," her sweet 16th scene for Naughty America, at https://tour.naughtyamerica.com/scene/jennifer-white-23207?nats=seoteam.12.8.8.10.0.0.0.0. And go to Swallowed.com to see "Triple Duty," a scorching new Jen scene that also features Zoey Monroe and Rachele Richey.
Blush Exotic is located at 135 9th Street Pittsburgh, PA 15222. Phone 412.281.7703 or visit http://www.blushexotic.com/events/event/jennifer-white-919-923/ for more information.
Jen is raffling off lunch with her during Exxxotica NJ. The event is in Edison, NJ, so if you can be in the area, give it a try. Tickets are only $5. You can even get 10 for $40. Get your ticket(s) for the opportunity to win lunch with Jennifer White at https://www.eventbrite.com/e/jennifer-white-lunch-with-jen-at-exxxotica-nj-nov-3-5-tickets-36653953963.
Read the recent Explicit List article on Jennifer at http://explicitlist.com/2017/06/explicit-starlet-showcase-jennifer-white/.
SOCIAL: Twitter and Snapchat: @xJenniferWhiteX'; Chatstar: Jennifer_White
OFFICIAL WEBSITE: http://jenniferwhitexoxo.com
BOOKING: Skype dates: jenniferwhiterequests@gmail.com; scenes/photo shoots: Jenniferwhitebookings@gmail.com
PRESS/MEDIA CONTACT: Rising Star PR, info@risingstarpr.com, @RisingStarPR
For everything Jennifer go to http://risingstarpr.com/clients/jennifer-white/.