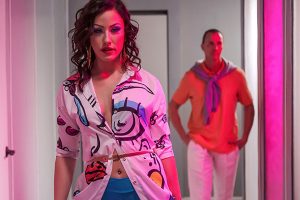 When Jennifer White and her husband went to meet Xander Corvus in a motel room to make some dough on some dope, a funny thing happened: Jennifer brought a suitcase full of sex toys instead of the drugs!
In most cases, this would be disastrous, even deadly. But Jen is a woman who can think on her feet and she knows how to turn any potentially bad situation around quickly: sex.
After much fighting, Xander sends Jen's husband back to get the drugs. She stays behind and is appreciate of how Xander put her jerk of a hubby in his place. And since hubby didn't take the payload of sex toys with him, Jennifer, hoping to make up for the mix-up, decides to put them to good use. Xander is hip to go along with this and not only will he fuck her, he'll tie her up a bit as well. He screws all of her holes with wild abandon, making up for both lost time and the inconvenience Jen has caused him.
"I just felt so bad that we'd left the drugs behind, but at the same time I was horny knowing that all those sex toys were in the room," she said. "Well, actually, I'm always horny, but what a great opportunity to act on it! Xander was certainly a willing participant and a great fuck. Just thinking about it now I can still feel his cock pounding my little asshole. Sex is the only drug I need!"
Also look for Jennifer on the cover of the new collection from Popshots' Oral Fixations, in James Deen's Greatest Group Getdowns (James Deen Productions), The Cosplay Experience (JayRock Productions) and Interracial Creampies (Digital Sin).
WATCH:
"Hustle and Blow"
Interracial Creampies
Oral Fixations