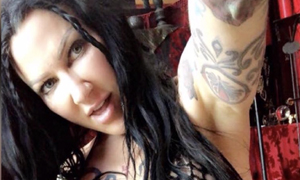 Jenevieve Hexxx is sexy in (or out) of about anything and in Wicked Pictures' new collection Sexy in Stockings fans gets to see her strut her stuff and it won't be the stockings fans are looking at.
Instead it's her incredible sex-ability as she stars in an epic threesome with August Taylor and Brad Armstrong. The way she gets fucked by Armstrong and lapped up by August and of course the ladies switch roles and Brad bangs August as Jen does her best to help things along.
"This is one of my favorite scenes from the past year," Jenevieve said. "Everything came together. Brad's direction and performing were both superb and the sex was everything you would expect when you get to work with performers like that – incredible!"
Also look for the Most Epic Ass nominee in Lesbian Big Booty Lovers 3, the latest Miles Long-directed title for Little Dragon Pictures. Cherry Pimps has also made a January live show Jenevieve did with Nathan Bronson available to all whether they caught it live or not. It's an amazing, raw performance and shows fans what amazing feats can be done in an hour with no edits.
Also look for Jenevieve in Desire Films' new DVD Total Lesbian Temptation, sharing a memorable scene with Sarah Jessie. Also check out Momma Leave My Cock Alone! (Tabu World), which features Jenevieve takes her cock-teasing ways to the extreme with a stepson scene that will have you reconsidering the family unit.
WATCH: