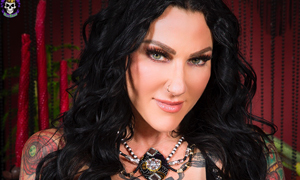 The Altporn Awards are coming up May 11, and the photography team of Forrest Black and Amelia G is working ahead, creating a new set titled "Awards" featuring Jenevieve Hexxx that is now available on BlueBlood.com and GothicSluts.com. They highlight Jenevieve's previous wins at the show as well as an Exotic Dancer Awards victory.
The set includes Jenevieve posing with two awards she previously won at the AltpornAwards show, Best Modern Burlesque (which she won in 2018) and the fan award for the same category (which she won in  2017). She can also be seen in a Most Extreme Show sash, which she won at the 2018 ED Awards, and in various other photos shot on a positively Hexxxy set complete with candles, pentagrams and much more.
"Having the opportunity to shoot with some of my awards was pretty cool," Jenevieve said. "Forrest and Amelia are amazing to work with, they're such amazing photographers, and I think they turned out amazing."
Watch Jenevieve in Wicked Pictures' new collection Sexy in Stockings in an intense scene co-starring August Taylor and Brad Armstrong. Also look for Jenevieve in Desire Films' new DVD Total LesbianTemptation and Momma Leave My Cock Alone! (Tabu World).
Follow: Blue Blood (@BlueBlood), Forrest Black (@ForrestBlack) and Amelia G (@AmeliaG). Blue Blood is online.