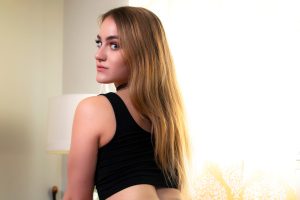 House Of Fyre is one of the most popular and successful independent studios in the business. Their founders, Lady Olivia and Laz Fyre, continue to bring thrilling and original content to fans everywhere. Olivia and Laz were so impressed with their latest scene, "Picked Up and Fucked" they wanted to get it to their website members immediately.
"Picked Up and Fucked" features Kenzie Madison, a newbie in the industry who is quickly becoming a fan favorite. After getting her from the airport, Laz brings her home so they can begin filming. After very little small talk, Kenzie and Laz begin kissing and things heat up from there. The scene is slow and sensual, and ends with Kenzie getting a cream pie.
Kenzie Madison said, "My experience with House of Fyre blew my expectations! Not only did we knock out three amazing, sexy scenes in two days, but they are two of the most respectful, professional, and welcoming people I've ever worked with! I look forward to my scenes releasing and hopefully more in the future."
Make sure to follow Laz and Olivia Fyre on Twitter, as well as their House Of Fyre account.