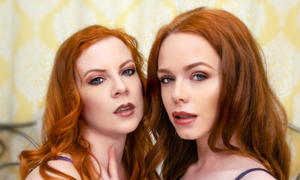 Lady Olivia and Laz Fyre are bringing fans two new scenes to their official website, House O Fyre, sure to heat things up. With a POV threesome, and a sensual no script scene, fans will be able to see why Olivia and Laz are two of the hottest independent producers in the industry.
First, we see Olivia, Ella Hughes, and Laz in "Reluctant Tutor Earns Her Bonus." Ella is trying to get through to her student, but he's very distracted. Ella warns him that she will have to talk to his stepmother if he doesn't start paying attention. When Olivia sits down, she knows right away that Laz is distracted and needs some sexual release. Olivia begins with a hand job, and makes it clear to Ella that this is simply part of her job. Ella, who may be reluctant at first, gets right in the mood, and earns herself the bonus of a sexy, POV-style threesome.
Also available is the next episode of the popular series, "Sensual Suite." This episode features Lauren Phillips, who begins her scene by slowly undressing, and joins Laz by the fire. Lauren experiences something that is not often seen in the industry – slow and sensual sex, with no script or open camera angles.
Make sure to follow Laz and Olivia Fyre on Twitter, as well as their House Of Fyre account.
Their official website, HouseOFyre.com, gives members access to special members-only content, such as behind-the-scenes footage and exclusive scenes not available anywhere else.  Fans can also purchase individual scenes in the VOD area. The site will be updated weekly with new content, as well as older scenes.
Follow us on Twitter, @XXXStarPR and check out our website, xxxstarpr.com. For interviews or media inquiries, contact xxxstarpr@gmail.com.