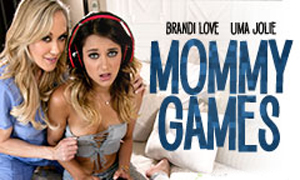 Montreal, QC –  Girlsway Network, the lesbian adult content site of Gamma Entertainment's FameDollars affiliate program, is set to launch new Mommy's Girl scene Mommy Games November 14, exclusively at Girlsway.com.
Gaming addict Uma Jolie keeps blowing off school to get her online fix, and stepmom Brandi Love is frustrated. "Are you that into this video game that, like, nothing else exists?" Uma continues playing while Brandi sucks her daughter's perky nipples and neck. Uma protests: "you're totally distracting me!"
"Uma and Brandi are electric onscreen, and this scene turned out to be quite funny with their quick back-and-forth banter," said Mommy Games director Stills by Alan. "This is their first Girlsway scene together, and I'm guessing from the fan feedback, this won't be their last."
This is the first Girlsway pairing for the two stars: Love – back after a two year performing hiatus for girlsway – recently released three new scenes for the company, including Mommy's Girl scenePicture Perfection. Jolie can be seen in the Girlsway vignette title The Art of Pussy Eating: How Wet Can You Get?
The latest Mommy's Girl scene is also a Member Fantasy scene, sent in by Girlsway.com forum member NEPTUNE. "We get a lot of requests for gaming and step-family themed narratives, so we appreciate our website members that fill us with so many story inspirations. Keep sending your ideas in, guys!"
Mommy Games is available November 14 at girlsway.com/MommysGirl/Mommy-Games-Scene; visit Uma Jolie and Brandi Love's official Girlsway model pages to indulge in more of their all-girl star showcases.
Visit Girlsway.com or contact affiliate manager Derrick Gilbert derrick@famedollars.com.
Follow Girlsway on social media:
https://twitter.com/StillsByAlan
ABOUT GIRLSWAY:
Launched in October of 2014, GIRLSWAY is an all-girl studio operated by the Gamma Films Group, the production arm of award-winning adult company Gamma Entertainment. Through their close interaction with the beautiful models and their loyal fans, Girlsway is quickly becoming one of adult's leading all-girl erotica brands. The studio produces original and addictive content that mixes both passionate lesbian sex with interesting characters and inter-connected storylines.
Appealing to both men and women, Girlsway has made their presence known both in and out of the industry and has become critically acclaimed for their style of filming, storyline based content, talented casting, and most of all, their engagement with their members. With their unique vision and breakthrough content, Girlsway is becoming porn's most dominant lesbian network. You can find the entire Girlsway content library available online at http://www.girlsway.com and to stay up to date with the latest news and releases, you can visit http://twitter.com/girlswaynetwork.
Video-on-demand viewing is also available at Gamelink, HotMovies, AEBN, and AdultEmpire. DVDs are exclusively distributed by Girlfriends Films to all major online retailers and adult stores.