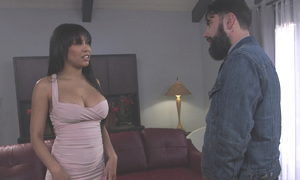 Gia Milana loves trying something new and pushing her limits and she had the opportunity to do both with her first-ever Kink.com scene, which dropped in their Sex and Submission section this weekend.
"The Snitch" with Tommy Pistol and directed by James Mogul has the lust-filled and breast-stacked beauty getting busted trying to frame Tommy for a heist. Tommy finds out and teaches her the age-old lesson about snitches getting stitches. She might not literally need to head to the hospital to get sewn up, but what he did to her definitely left a mark in her mind that she'll never be able to erase.
Donning a skin tight black catsuit, spike heels and mask, Gia is the cutest cat burglar you've ever seen. Having scored a bag full of money and drugs, she and Tommy celebrate back at their clubhouse. The party of two includes Tommy enjoying Gia's tits and her giving a fantastic blowjob that allows him to blow his milk straight down her throat.
But not all is as it appears. Unbeknownst her, Tommy came across her police badge in her bag and when they meet up for their next job Gia is in for a surprise: Her partner in crime is about to introduce the slutty snitch to a world of BDSM and hardcore anal sex. All his suspicions are confirmed when he finds a wire in Gia's panties and he ties her up tight, fucks her pussy and disciplines her with the flogger.
Feeling repentant (or maybe just insanely horny), Gia tells Tommy to fuck her in the ass. He spits on her tight onion and slams it in. Gia loves her punishment and Tommy takes advantage of the situation, switching between her pussy and her ass, setting her legs over his shoulders pummeling both entry points. Then he puts her on all fours, ties her up with rope and slaps her butt until it's red, then starts fucking it again. He takes advantage of the nasty narc until he's done with her, which he announces by cumming on her face.
"Working for Kink is something I have wanted to do for a long time, and it was not a disappointment!" Gia said. "Tommy was incredible and it was a really hardcore scene. Fans who have been hoping to see me completely vulnerable and getting all my holes fucked will be very satisfied with this one. I know I was!"
Read Gia's recent YNOT interview.
WATCH:
Kink.com: "The Snitch"