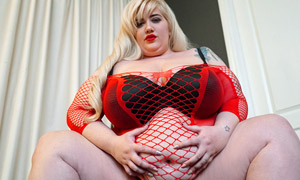 Blonde bombshell Genevieve LaFleur is porn's newest angel with curves, and she's been filming for all the top BBW studios. Today, her first scene for iconic site Plumper Pass is making its debut.
Genevieve LaFleur's scene is entitled "Dick Dash Deliver". She's a horny and hungry woman with many needs to satiate—Billy Boston is her delivery guy, and boy does he deliver. He rolls up with some hot food. Genevieve is wearing sexy red lingerie that makes her tits seem even bigger and more luscious. She's going to give him a big tip…herself. Billy is going the extra mile to satisfy his customers, and he's serving up himself and his special sauce. Yea, it's all about delivery!
"With only a few months in, I've been fortunate enough to work with some of the top BBW studios, and they've been impressed with my performance and work ethic," says Genevieve LaFleur. "Plumper Pass was always at the top of my list to work for, and Clint Works was amazing. I love that he let me molest the delivery guy and wear red. I'll be working for them again in April, and I can't wait!"
Watch the trailer for "Dick Dash Deliver" at Plumper Pass. Members can see the full scene, check out the BTS, and view over 500 stills.
Genevieve will be in the New York City area for the last two weeks of February. Adult photographers, directors, and studios looking to shoot her can contact her at bookmisslafleur@gmail.com.
To interview Genevieve LaFleur for your site, show, or publication, contact Erika Icon of The Rub PR at erika@therubpr.com.