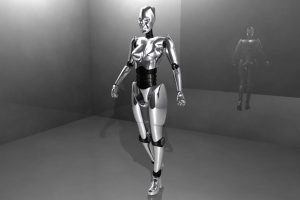 New Jersey — If you believe the internet, we live in a world that is steeped in sex positivity, supportive of sexual expression and ready to live and let live, as long as consent is present – or, at least, one that's moving in that direction. But as soon as you put down your phone and step into the three-dimensional world, you realize that's not true. At all.
Case in point: A New Jersey sheriff's officer has lost her job, allegedly because she failed to disclose previously working as a dominatrix on her application.
Kristen Hyman, whose work included appearing in films and seeing clients privately, reportedly stated her work "was exactly like WWE wrestling. I had a constructed narrative. A constructed character. Anything you read involving 'Domina Nyx Blake, the Greek Goddess of the Night,' is creative writing."
Court documents showed that Hyman told investigators she never appeared naked on camera and didn't perform sex acts in the videos.
The sheriff's office characterized Hyman's activities, which took place roughly from 2010 through 2012, as conduct unbecoming for a public employee. This, however, does not correspond with why Hyman was reportedly terminated. Was it for omitting work history from her application — or, was it for working in the sex industry?
For adult industry professionals working off-camera, it is often easy to write sex work stigma off as something only performers experience. This, however, is not the case.
A former public relations representative shared, "Even if you've never appeared on camera, any association with porn is seen as a blight on your resume by many employers. I made it all the way through the interview process at a mainstream company, only to have the job offer pulled by the owner after she Googled my name and found some comments I had given to the mainstream press in my capacity as a porn company publicity rep."
"If I had it all to do over again, I never would have used my real name in connection with my adult industry jobs — but it's too late for that now. Google's memory is very unforgiving like that."
Though performers certainly get the brunt of sex work stigma, even being "in the same room as sex" is enough to render employment in another industry tricky. People working exclusively in marketing, tech, billing and more can be impacted by a sort of proxy syndrome that is equally nefarious.