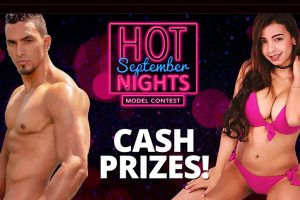 Westlake Village, CA — Flirt4Free recently announced a unique five-day promotion to celebrate the official calendar end of summer. September Hot Nights will kick off at 6PM (EST) on Monday, September 17 and end at midnight on Friday, September 21. Over $6,000 in cash prizes will be on the line.
What sets Hot Nights apart from the site's other major holiday events is that models can win on an hourly basis. Every hour between 6PM and midnight throughout the promotion, the performers with the most credits will grab a $25 bonus. On top of that, the top 10 men and women earners are entered into an hourly random draw for an additional $100 prize. That's four winners every 60 minutes, and 24 winners a day!
At the end of the competition, the top earning man and top earning woman will each win a $2,000 grand prize. Runners-up win $500.
Lucrative competitions like these have become a hallmark of the Flirt4Free brand and are a major contributor in bringing the hottest talent in camming to the site.
"Hot September Nights is just the tip of the iceberg," said Jamie Rodriguez, Flirt4Free's Director of Product. "We have some really thrilling events planned for this fall, including our awesome Halloween contest and what's sure to be our biggest and best Flirt of the Year competition ever."
"2018 is definitely going out with a bang!" Rodriguez added.
To learn more about the September Hot Nights Model Contest, visit Flirt4Free.com.