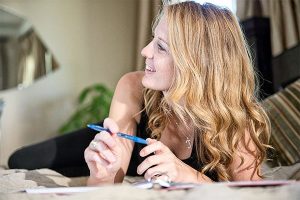 Step-dads and step-daughters. Step-sons and step-mothers. Step-sisters, step-brothers and step-aunts twice removed! With all these steps, the adult entertainment industry could build a staircase. Everywhere you look, on every site you see, fauxcest reigns supreme. But why has this genre risen to such prominence? And is that prominence holding?
The rise of the fauxcest genre has coincided with the decline of the romance genre in many ways. In order to gather some insights regarding these apparent patterns, we spoke to Jacky St. James.
St. James is one of the most lauded screenwriter/directors in adult entertainment history. She got her start working in the romance genre via the screenplay for her breakout hit, Dear Abby (2011). Some of her most notable works since include Torn (2012), The Temptation of Eve (2013) and the four titles in her Emma Marx film series. She's also written and directed a whole lot of fauxcest — from Having Sex With the In-Laws (2013) to Fathers and Daughters (parts one and two), and everything in between.
Recently, St. James returned to the genre that launched her career with her new romance film, Love in the Digital Age (2018). The film follows an internet-obsessed millennial who, on a dare, gives up her smartphone and social media, eventually discovering that love is far more rewarding when you get your head out of the cloud.
When asked about her reasoning to return to romance, St. James commented on how "the market is in dire need of more films in which women are strong female protagonists consenting to their sexual experiences," something that the fauxcest genre has largely ignored.
While all fauxcest is not necessarily anti-consent — lots of fauxcest does feature stronger, more assertive women figures — St. James' comment speaks volumes to her work, work in which women are in charge of their bodies and in charge of their own sexual experiences. This is especially important in the social landscape of today.
St. James also asserted that her shift here from fauxcest to romance came from "want[ing] to write something different," asserting that writing romance helped her to be "creatively… motivated and inspired." She was quick to say how writing romance is a fulfilling and different way to express her creative desires — "It is artistically important to be fulfilled in your work and to be satisfied with the outcome…" — and the need to create something new and exciting is an artistically important part of the creative process. For St. James, this was a reason to move away from the fauxcest genre she has had so much success in.
St. James is not dismissive of the fauxcest genre entirely though. While she delved into reasonings behind her switch over, she also noted how the genre itself is viable and relevant. St. James attributed this to the simple fact that it's selling.
"Everything in porn is cyclical," she said. In production, the adult entertainment industry is "trying to make their return on investment, and they seek out what sells. For a while it was romance, then fauxcest and soon it will be something else."
St. James' observation about the cyclical nature of the industry has been shown time and time again. Whatever's selling is hot, and whatever's hot is selling. At the end of the day, the name of the game is business viability. The more people are buying and viewing fauxcest, the more it's going to continue being a significant part of the industry.
The sustained popularity of fauxcest, however, may be attributed to a few things other than just the fact that people are buying it. With family structures shifting and recombining, this genre is potentially accessible and relevant to today's viewers — and fantasizing with porn as an outlet may be a healthy way to express some less than healthy feelings.
For now, fauxcest remains on top, but who knows? Tomorrow may bring a return to romance, with St. James once again at the forefront.
Image via Jeff Koga.