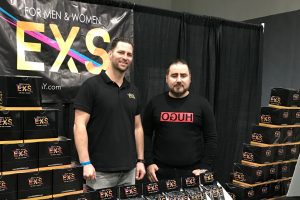 From vaping to keto diets, we are living in a day and age where everyone is trying to live healthier — but also maybe still be a bit indulgent. Is it any surprise then that there are people looking for all-natural aids to help boost their sex lives?
YNOT spoke with the purveyors of EXS Spray during Adultcon last weekend, and we learned that their product is here to service the "healthy alternatives" market with their take on a sex booster that acts like Viagra.
What is EXS Spray?
EXS Spray, which users take orally, promotes itself as an Herbal Libido Enhancement Spray with the tagline "Spray and Play." They claim that their "products are not intended to force [users' bodies] to do something, but to allow [one's] body to perform or boost its natural functions." It prides itself on being a dietary supplement that has no side effects, being 100 percent natural. And the kicker — it claims to work on both men and women.
"Spray and Play" is not exactly literal, as the product takes some time to work. Users spritz three or four sprays under the tongue, hold the product in their mouths for 30 to 60 seconds and then administer another three sprays thirty minutes after that.
The product is described as having an intense effect for the first two hours and a total effect period of up to twelve hours. With a $19.95 price and availability at brick and mortar stores and online, EXS Spray is already decently accessible in the market. Moving forward, the people behind EXS hope to expand into more adult stores and increase its online store sales.
Speaking with Peter Neale of EXS Spray at Adultcon, he elaborated on how the spray's herbal nature helped it avoid side effects, saying customers need not worry about becoming flush in the face or a racing heartbeat. Neale also explained that users can also still enjoy alcohol while using EXS Spray thanks to its non-pharmaceutical nature.
Neale further explained that the product is designed to help enhance experiences for both men and women, with men experiencing effects similar to Viagra and women experiencing an increased sensation, libido and quicker climax. This is important — both in terms of finding workable natural products, as well as for enhancing intimacy in couples.
Unlike Viagra, EXS Spray is also for Women
It was recently revealed in Caroline Criado Perez's Invisible Women: Exposing Data Bias in a World Designed for Men that, back when Viagra was originally researched in the 1990s, it was discovered to help decrease period pain in women. This benevolent bonus, however, was considered a dead-end aspect of the product by its all-men review panel.
In their review of the book, the Times of London wrote:
When Viagra — sildenafil citrate — was tested initially as heart medication, its well-known properties for men were discovered. "Hallelujah," said Big Pharma, and research ceased. However, in subsequent tests the same drug was found to offer total relief for serious period pain over four hours. This didn't impress the male review panel, who refused further funding, remarking that cramps were not a public health priority.
Fast forward to 2019, and EXS Spray — while obviously not making similar claims on the period pain front — fully embraces women in their customer base. They even feature a testimonial to one woman's experience with the product on the front page of their website.
One can hardly argue that doubling your customer base has ever been a bad idea, but EXS Spray's marketing to men and women is interesting to note for other reasons as well.
Their strategy may indicate pure business savvy, it may point to the progressive nature of the company overall and — perhaps — it even showcase a benchmark illustrating the differences in gendered sexual wellness awareness between today and the 1990s.
Will EXS Spray Get Lost in the Shuffle?
EXS Spray is introducing a product into a marketplace that is ripe for competition. There have been other Viagra competitors, some with not the most inviting delivery systems (think injectables), introduced in the past, but EXS Spray is doing some notably different things with its strategy.
Its dietary supplement nature appeals to those who may be squeamish towards taking pills or who are averse to the known side effects that come with many pharmaceuticals. EXS Spray takes less of a "fixing a problem" approach in lieu of a more "improving an enjoyable experience" perspective, which can definitely be a more appealing angle.
All of this, along with a competitive price point and an inclusive marketing strategy, makes EXS Spray well-positioned to stake a claim in the sexual experience enhancement landscape.
Pictured above (l-r): Peter Neale and Sam Bidi. Image via the author. Used with permission.