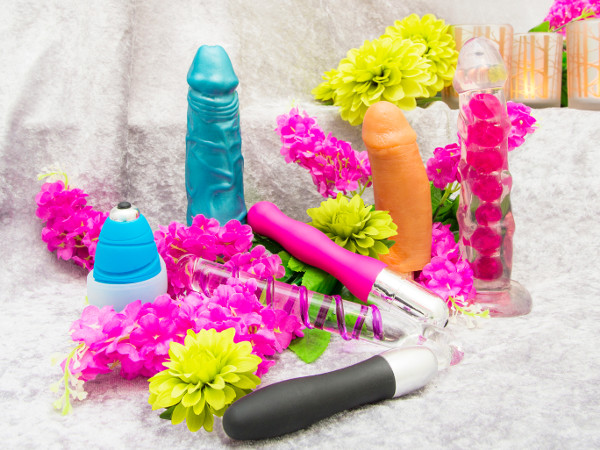 When it comes to sex toys, maybe the "stuffy British" aren't so stuffy after all. A new study suggests U.K. residents fall only slightly behind the Danish and the Swedish when it comes to shopping for sex toys online.
The research, conducted by U.K. discount aggregator vouchercloud, found the Danish search for sex toys more often than any other country: 118 times per 1,000 internet users per year, or more than one search for every 10 residents. The Swedish followed closely with 115 searches per 1,000 internet users. In the U.K., 1,000 internet users initiated 96 searches annually.
The Netherlands (88 searches) and Russia (87 searches) rounded out the top five countries in per-capita sex-toy searches.
The award for least lust-filled nation goes to Azerbaijan, with just 10 sex-toy searches per 1,000 people. Albania (15), Andorra (15), Liechtenstein (21) and Georgia (25) round out the bottom five.
There are also some surprising omissions from the upper echelons of the sex-toy-league table: France, the notorious country of love, only reached 12th in the European listings with 74 annual searches, while Germany, with 65 searches, lies even further back in 18th place. Considering the U.K.'s dominant position, Ireland lying in 16th with 71 searches seems a bit off.
For some context from across the globe, the U.S.'s 104 searches per 1,000 users would narrowly edge out the U.K. on the chart were the table worldwide, and Australia's 82 searches would  for bedroom creativity, while Australia (82) would barely creep into the top 10.
Somewhat surprisingly, Japan (44) would be buried in the bottom half of the table, while Brazilians (36) may not be quite the hot Latin lovers one might imagine.
"A somewhat unique dataset has revealed some truly interesting findings around European love-making," said Chris Johnson, head of operations at vouchercloud.
"We're a little surprised that the U.K. has offered an extremely strong showing, particularly with such reserved English stereotypes.
"However, the Nordic nations have definitely put the rest of Europe to shame," Johnson continued. "There's more than one way to deal with the cold, after all."
If cold is a factor, what happened with Finland (73) and Iceland (50)? At 16th place and 31st place, respectively, they're a long way behind their Nordic neighbors.
Vouchercloud's research also revealed the most "experimental" countries, based on their likelihood to stray away from more vanilla "dildo" searches.
Despite a lowly 15th place finish in the sex-toy-league table, the Greeks show a flair for the adventurous: Just 17 percent of their total searches were dildo-specific. Ukraine (20 percent), Armenia (22 percent), Russia (23 percent) and Lithuania (23 percent) completed the top five. The U.K. managed seventh place with 24 percent searches for dildo-specific keywords.
Slovenia, the Czech Republic, Montenegro, Slovakia and Poland made up the most vanilla countries, with dildo-focused searches exceeding 46 percent of the total.
To arrive at its results, vouchercloud took 18 of the most popular sex toy products and search terms from a large online adult toy store — including generic terms like "sex toys" and "dildos" and more niche but still popular products like "love eggs" and "jiggle balls" — and translated them into every Google-accepted language.
The vouchercloud team made sure to include a focus on colloquial terms not understood by Google Translate where necessary. The process often required manual checks and inquiries of international partners. The latter produced some "very interesting" discussions, according to Johnson. (And probably some blushing, as well.)
Then, every keyword — the 18 keywords and international variants (plurals, international colloquial terms, etc.) — was put through Google's Keyword Planner to reveal search volume for every country. Using the numbers obtained, the research team was able to work out how many times the internet-accessing residents of each country searched for a range of sex toys, based on each country's respective internet penetration and Google's market share in each country.
"This search inevitably excluded niche and product-specific searches — certain types of dildos, etc. — so total sex-toy focused search for each country probably is far, far higher than our data suggests," Johnson said.
The keywords used for the study included sex toys, dildo, vibrator, cock ring, strap-on, lubricant, anal beads, pleasure ring, sex swing, sex machine, handcuffs, butt plugs, blow-up doll, love egg, sexy costumes, anal toys, jiggle balls, and bondage toys.