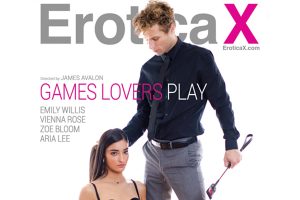 MONTREAL, Quebec – Adventurous couples with a love of BDSM and fetish play expose their kinky side in the opening chapter of the new series "Games Lovers Play," from leading couples studio EroticaX. The movie is now available on DVD.
Veteran director James Avalon takes the reins of this opening installment of the new fetish-themed series starring 20-year-old box cover model Emily Willis, along with Vienna Rose, Zoe Bloom and Aria Lee in four sensual adventures in kink.
For box art, cast list and more visit: www.milehighonline.com/product/movie/4616.
"James reveals the kinky side of young couples as they experiment and explore the world of fetish and BDSM," said Jon Blitt, head of production for Erotica X's parent company, O.L. Entertainment.
"Young Emily Willis takes her passion for fetish play to another level in her captivating scene while her fellow gorgeous starlets Vienna, Zoe and Aria dial up the action with their own intense fetish fantasies. It's a great start to an exciting new series," Blitt added.
"Games Lovers Play" features four stories of couples that love to play sexy games with each other. A housewife "spills" coffee on herself so her husband can "punish" her. Next, another couple pretends to be strangers as he picks her up in a park, followed by sexy Vienna who pretends her boyfriend is her "ex" so she can have makeup sex with him with kinky results. Finally, Aria decides to play a prank on her husband by having her BFF hit on him in a bar when things suddenly take an erotic turn.
"Games Lovers Play" features four hardcore sex scenes shot in HD, along with a photo slide show, animated chapter index, movie trailers and more.
For media inquiries, contact Dusty at Dusty@DustyInk.com.