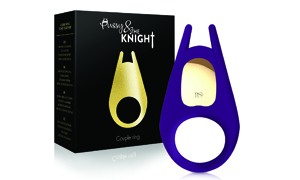 Entrenue is officially shipping the latest from modern luxury brand Rianne S – new releases include bracelet-style cuffs adorned with crystals and a silicone vibrating ring, which marks the brand's first foray into couples' products. Perfectly priced for an affordable personal treat or a precious gift, these new offerings from Rianne S are timed for the romance holiday season and give retailers something special to promote pre-Valentine's Day.
New "Liz" crystal handcuffs are made using expandable metal with a striking gold undertone, making them universally sized and comfortable to wear in and out of the bedroom. Featuring a blend of purple and diamond-like stones, Liz cuffs are true intimate jewelry, offering the glam look of bejeweled bracelets with the kinky functionality of handcuffs.
The Pussy and the Night couples ring offers a modern twist on a classic style, delivering powerful vibration in a graceful silicone shape. The stretchy ring is equipped with a stimulator that boasts vibrating "ears" on the end, which deliver targeted vibration on both sides of the clitoris, and its soft silicone construction makes it comfortable for longer-term wear.
"Rianne S has been a strong seller in the affordable luxury category and customers love their attention to detail and gorgeous packaging," Entrenue CEOwner Joe Casella said. "Liz cuffs and the Pussy and the Night ring are exciting additions to our catalog and perfectly timed for Valentine's Day, and we love that Rianne S has put a fancier spin on a vibrating ring. They really nailed the packaging for these two new releases and their price points are fantastic. Entrenue is dedicated to supporting women-owned businesses and women-designed products, and Rianne S delivers every time!"
Rianne S and its affordable luxury offerings also were recently showcased on Evine After Dark, the adult-focused home shopping program from digital retailer Evine, whose television network has delivered entertainment shopping to millions of homes for decades.
To place an order, please contact your preferred representative, call (800) 368-7268, or email info@entrenue.com.
This year marks Entrenue's 25th anniversary! Sign up today at Entrenue and help the team celebrate with specials and exclusives available to Entrenue customers only!