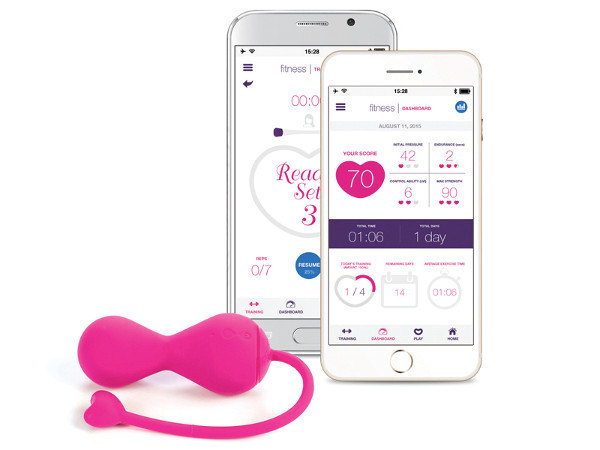 PHOENIX – Adult products wholesaler Entrenue and pleasure products manufacturer OhMiBod have signed an agreement giving the former exclusive distribution rights to the latter's Krush kegel exerciser.
Krush, part of OhMiBod's Lovelife line, allows users to customize a pelvic fitness routine with real-time tracking and training routines. The hourglass-shaped kegel exerciser is powered by the Lovelife line's TASL app, which comes pre-programmed with a quick-start guide, pelvic training courses, voice-guided training and exercise activity drills. A built-in sensor measures pelvic floor muscle strength, and an internal motor provides haptic training feedback and pleasure.
To incorporate a bit of fun to the experience, the TASL app also features goal-setting and rewards to keep motivation on high, along with a unique "anchor" that can help keep Krush in place even when the user's pelvic floor muscles tire, making intimate pleasure easier. A locking feature adds a bonus sense of security when Krush isn't in use.
"[OhMiBod founders] Brian and Suki [Dunham] have always been ahead of the curve, and their Lovelife line has been a hit ever since its 2013 debut," said Kim Maty, Entrenue's senior account representative and buyer. "Krush is a fun introduction to kegel fitness that features the kind of high-level technology that modern women expect with their wellness tools.
"Krush appeals to a wide variety of users, and the TASL app comes with training programs designed specifically for users' unique needs," she continued. "From 'New Mom' to 'First Timer' and even 'Sexy Trainer,' the pre-programmed routines assure users have a guide to help them reach their pelvic floor fitness goals. And they can track their progress, too."
Made with body-safe silicone, Krush is waterproof and USB-rechargeable. The product carries a one-year manufacturer's warranty. Its packaging artfully coordinates with existing items in the Lovelife line, making for easy and attractive in-store displays.
"We love working with Brian and Suki, and their Lovelife line has become quintessential in the couples category thanks to its thoughtful approach to design and marketing," Entrenue Chief Executive Officer Joe Casella said. "These two run their company with integrity, listen to their customers and truly understand their audience. From price point to user interface, Krush is the latest in the popular Lovelife line and brings retailers a fun, functional and accessible kegel exerciser that's designed to sell."
For more information, visit Entrenue.com, call 800 368-7268, or email info@entrenue.com.