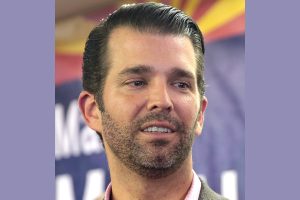 Surely there are ways to celebrate that your father's self-proclaimed (and still dubious) "total exoneration" from allegations of collusion with Russia during his presidential campaign than this.
On Tuesday, Donald Trump Jr. shared to his Instagram stories a meme featuring a photo of his father mugging for the camera, above a headline stating, "Orange Man Fucks Entire Democratic Party."
The image in question shows Trump Sr. mugging for the camera on what appears to be the thumbnail for a porn video on Pornhub. It's part of what Mashable calls "a well-worn Pornhub joke genre involving non-sexual videos of Donald Trump with titles that imply he's fucking over the country—or in this case the Democratic party."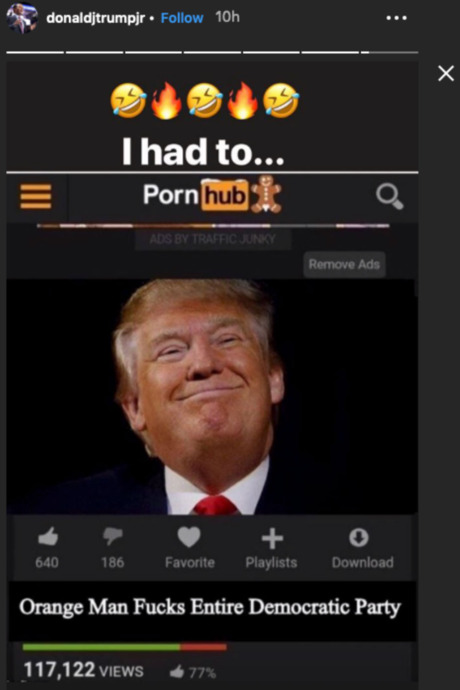 The post comes in the wake of Attorney General William Barr's letter upon reading the long-awaited Mueller report, which, Barr wrote in a letter, "did not find that the Trump campaign or anyone associated with it conspired or coordinated with Russia in its efforts to influence the 2016 U.S. presidential election." Republicans across the country celebrated the finding earlier this week, and Trump Jr., according to his Instagram story, "had to."
We'd argue that no, he didn't. And, whether his post was a recreation of a now-beloved meme or not, we'd like to point out that it's in rather poor taste. Pornhub and one's own parents don't—and perhaps shouldn't—go together. And when they do, most of us would keep the overlap to ourselves.
Then again, family creepiness isn't far from the realm of normalcy in the Trump family, where its patriarch's desire to date his own daughter is well documented. As is his son's affinity for inappropriate memes.  
But a Pornhub meme? That's a whole other level, Junior.
Photo of Donald Trump Jr. by Gage Skidmore via Creative Commons Attribution-Share Alike 2.0 Generic license The image has been cropped, scaled and padded with background color.
Meme image via Donald Trump Jr.'s Instagram story