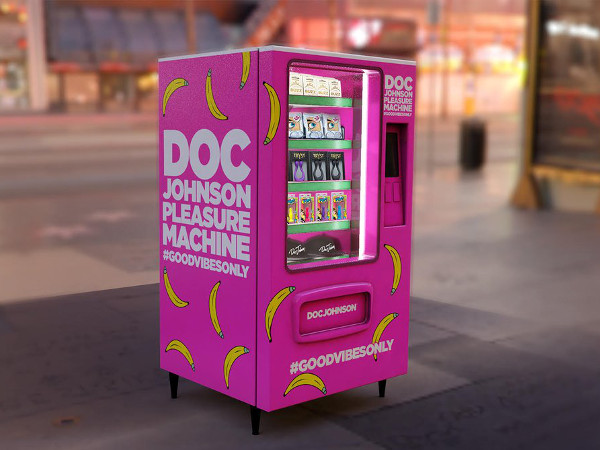 NORTH HOLLYWOOD, Calif. – In the late 19th and early 20th centuries, traveling medicine shows were all the rage. Quacks of all types moved from town to town hawking sure-fire remedies for all manner of real and imaginary ailments.
Pleasure Product manufacturer Doc Johnson has carried the concept — if not the fakery — of the old-time crowd-pleasers into the 21st century with its traveling "technicolor touring pop-up" sex-toy vending machine.
According to the company, the machine will blaze through the U.S. on a whirlwind tour that will last into early 2018.
The Pop Up Pleasure Machine is a traditional vending machine painted eye-punching pink and filled with a curated selection of Doc Johnson products, including the TRYST multi-erogenous silicone massager, the BUZZ Liquid Vibrator and the multi-colored American POP! Mode plug, as well as select Doc Johnson swag.
So far, the pink behemoth has appeared at Whitney Bell's exhibition "I Didn't Ask for This: A Lifetime of Dick Pics" and at the Disco Dining Club, an underground, bi-monthly supper club that has been called "Los Angeles's Most Decadent Dinner Party."
"Our new campaign, the 'Pop Up Pleasure Machine,' aims to expand our reach and drive awareness of the Doc Johnson brand amongst a millennial audience, in particular," Doc Johnson marketing executive Erica Braverman said. "We're finding that people, and millennial men and women especially, want to break the sex toy taboo with us, and they also want to engage with brands in an authentic, experiential way."
Doc Johnson Chief Operating Officer and Chief Commercial Officer Chad Braverman added, "The point of this project is really not about the sale of individual products, but is more so a unique and interesting way to connect with a new audience while also sparking conversation and generating excitement for pleasure products in general. I think this pop-up concept is right on brand for us and something that people will love getting involved in."
Scott Watkins, vice president of sales and marketing, said the promotion gives consumers a new look at a time-tested company.
"While customers can already see our products in retail stores across the country, we wanted to provide another way to create top-of-mind awareness for people who wouldn't have otherwise thought of sex toys as a holiday gift," he said. "Our retail and distributor partners should prepare for an influx of demand for Doc Johnson products in general, with a particular focus on TRYST, BUZZ and our American POP! collection."