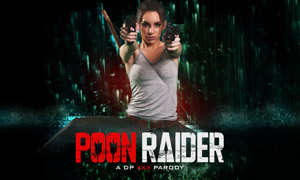 Burbank, CA  — Hot off its release of The Bewitcher: A DP XXX Parody, DIGITAL PLAYGROUND, the adult industry's renowned parody brand, has released a new movie worthy of inclusion in the porn parody canon. Their latest feature is titled Poon Raider: A DP XXX Parodyand stars Kimmy Granger, Rina Ellis, Tina Kay, Danny D and Ryan Ryder, directed by Dick Bush.
In the film, Laura Crotch (Granger) returns home to acquire Crotch Industries only to find out that her stepmother, Mrs. Crotch (Kay), has a different plan for the company. On the hunt to retrieve her father's rare artifact, Laura learns that her sidekick (Ellis) and Mrs. Crotch's assistant (Ryder) are working against her with the hope of acquiring the same rare artifact.
The film's star, Kimmy Granger, had high praise for the production both on and off set.
"There is honestly never a dull moment when I shoot for this crew. […] I'd honestly have to say my favorite times were when we were all done shooting and everyone would hang out in the kitchen and we'd all eat dinner together, laughing and talking all night 'til it was time for bed. I would always go to sleep in a great mood!"
Co-star, Rina Ellis, echoed Kimmy's fond memories for the production's supportive and collaborative atmosphere.
"The other cast members joke around a lot, so it made the shoot enjoyable and entertaining."
Poon Raider: A DP XXX Parody is now available on DIGITAL PLAYGROUND for all fans of action, adventure and adult entertainment. The safe-for-work trailer is available now on the Trendzz YouTube channel.
Watch the official safe-for-work trailer: https://www.youtube.com/watch?v=3Gk9PXsG3Dk
For aditional media and quotes: https://www.trendzz.com/press/digital-playground-unearths-porn-parody-gold-poon-raider-dp-xxx-parody/?utm_source=trendzz.com&utm_medium=pr_poonraiderparody&utm_campaign=articles