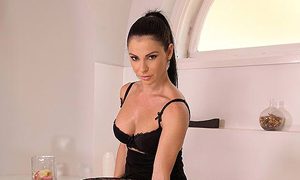 Inna Innaki just can't help herself. Alone in the sauna, she fills up a sudsy bath that she uses more for a sexy session of self-love than for cleaning herself up. In fact, she ends up a lot dirtier by the time she's done.
She's covered in soapy suds as she masturbates her pretty pussy aggressively on the edge of the tub and then the door opens. It's Teo and while he is momentarily stunned by what he sees and pulls back a little, he can't get himself to leave her alone and continues to peek through the open door at this incredible show.
But he has a hard time being completely quiet and soon it's Inna's turn to be stunned. "What are you doing there?!" she demands in her alluring Greek Goddess accent. She gets over the shock quickly enough and seizes the opportunity to be more deeply satisfied. She invites Teo in and she seduces him, first with a footrub, then by swallowing his cock deep into her throat. There's no going back form there and Teo takes the opportunity to jam his rod into her puss, taking her from behind. Then they get out of the tub and onto a hot tub bench where he pounds her in every way imaginable, finally blowing his massive load onto her feet.
"Teo and I have extremely passionate and wonderful sex and 'Sensual Footjobs in Tub & Sauna' is as good an example as any," Inna said. "We started our adult careers performing together in live sex shows, so we have a lot of experience together and know extremely well how to please each other. It makes for a very special scene every time we perform together."
Inna also has a new scene with Kitana Lure on her SugarBabes.tv. "The Pussy Thief" has Inna playing the cat burglar who sneaks in through Kitana's kitchen window and giving her no choice but to have the sexual situation of a lifetime.
Inna recently joined MyDirtyHobby and ManyVids, both of which feature original content from the busy beauty.