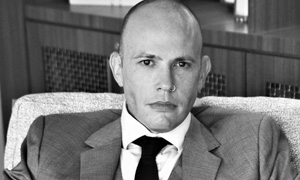 Less than saintly adult performer Alex Saint is one of the first guests on the triumphant return of Danglin' After Dark with Dick Dangle.
The almost 30-minute interview with Alex is now available on the Danglin' After Dark site. Dick really appreciated his English sensibility and enjoyed getting to know him. Episode 207 is a fun interview with sexy import and movie superhero. Alex discusses his career in the UK and U.S., ManyVids success, Twitter posts, fitness coaching, attending fan-based tradeshows and awards shows, partnership with Larkin Love, and much more with Mr. Dangle. Dick knows the sky is the limit for Alex and comments that he will be the next crush for the ladies who listen to the show, as well as a future award winner.
"Alex is not only a quality performer, but has the personality and professionalism to be a top tier talent for years to come'" says Dick Dangle. "He's suave and confident, a prime example of a modern male performer."
"If Dick lived down the street, I'm sure we'd be great friends," says Alex Saint. "This was one of the most intelligent interviews of my career. Dick really does his research and is quite knowledgeable about the adult industry. It was a pleasure chatting with him, and I hope my fans enjoy the podcast."
Listen to "Alex Saint: Episode #207" in its entirety at Danglin After Dark and look for Alex in an upcoming podcast with his partner in crime Larkin Love.
Alex will work with selected studios. Get him on your set by emailing him at alexsaintxxx@gmail.com
To interview Alex Saint for your publication, website, or show, contact Erika Icon of The Rub PR at erika@therubpr.com.