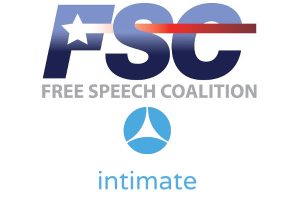 LOS ANGELES – The Free Speech Coalition (FSC) announced Monday that intimate.io, the company behind the adult-friendly "intimate" (ITM) token, has joined the adult trade association as a Platinum-level member.
"We know the discrimination adult businesses face from traditional banking institutions, as well as the hesitation many of our consumers have about making payments to adult sites," said Eric Paul Leue, Executive Director of the FSC. "While I'm glad to have intimate.io support our mission to defend the adult industry, I'm even happier to have them and their expertise in blockchain tech as a resource for the members of our coalition."
Based in London, intimate.io began its initial token sale on April 26, and after reaching a soft-cap of $5 million, is now working towards its hard-cap goal of $16.85m. The company has already formed relationships with several adult companies which envision using the ITM token to facilitate ecommerce transactions covering content, camming and dating. These initial partners include MojoHost, Badoink, ClubX, Lucas Entertainment and Paul Raymond Publications, according to the FSC's statement.
"Our industry needs alternative sources for payments and banking," said Reuben Coppa, founder of intimate.io. "In recent years, traditional institutions have become de facto regulators of adult content, closing accounts of performers and producers with often no recourse. We want to bring stability and privacy back to adult transactions, using blockchain technology."
In its statement, the FSC noted the blockchain technology used by cryptocurrencies like ITM "will allow consumers privacy in their transactions, eliminating tell-tale credit card statements and reducing the risk of public exposure through hacks."
"For adult businesses, intimate reduced dependence on traditional banking, while eliminating chargebacks," the FSC added in its statement. "In addition to the payments via intimate.io, the blockchain also has added decentralized trust and reputation system which makes any physical interaction such as dating, swinging or BDSM a far safer prospect in the future."
The intimate.io token sale ends June 7.