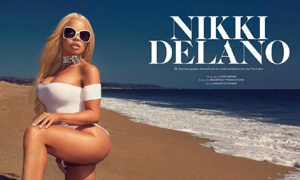 Tampa, FL – Clips4Sale, the original and still #1 downloadable video clips site, rocked EXXXOTICA New Jersey this past weekend with a mega booth full of fetish and adult stars. It one of the most popular booths at the expo.
Now, they have signed an exclusive agreement with EXXXOTICA to be the only clips company that will be exhibiting at all their expos for a minimum of two years and possibly longer, starting in 2018. In addition to being an exhibitor, Clips4Sale will also be a sponsor of all the 2018 and 2019 shows. Clips4sale will be bringing their new Nexocams social media fan and cam site along for the ride. Plus, they will give away 25 free tickets to fans for each show.
"2018 is our 15th year anniversary celebration of Clips4Sale, so this couldn't have come at a better time," says Owner Neil. "EXXXOTICA gave us a deal that we couldn't refuse! We're excited to be not only exhibiting and sponsoring EXXXOTICA for the next two plus years, but to also be the exclusive clips site at every show. Our booth will be even bigger than the one this year and we'll continue to have the best fetish and adult stars and free giveaways."
EXXXOTICA recently announced their 2018 show line-up with Denver April 6 through April 8, Chicago June 8 through June 10, Miami July 20 through July 22, and New Jersey November 2 through November 4.
Producers and models looking to open a new Clips4Sale studio, can visit https://www.clips4sale.com/clips/page/openastudio.
All media inquiries about Clips4Sale and their models/producers should be directed to Erika Icon of The Rub PR at erika@therubpr.com.
ABOUT CLIPS4SALE
Clips4Sale is the original clips site and still the #1 downloadable video clips site. They feature over one thousand categories for every niche or kink you can think of and get off to. Clips4Sale has the largest selection of high resolution media and thousands of clips are added every day. Producers and sellers get some of the highest payouts due to an incredibly high traffic volume, which includes over 1.3 million daily page views and 20 million fetish-hungry visitors each month. All content is extremely secure on their servers and easy to upload using with their uploading system, plus they have the highest bandwidth of any clips site. Clips4Sale also offers easily accessible stats and sales info, free advertising banners for studios on their home page, and 24/7 technical support for studios and sellers, in addition to 24/7 customer support.
Clips4Sale also offers fans, models, producers and porn stars the new Nexocam platform, where your fans can subscribe to your timeline, as well as go live on cam with your fans, if you choose. More info about this revolutionary and innovative product can be found at https://www.youtube.com/watch?v=S5Tolwz40bo and http://blog.clips4sale.com/b/clips4sale-presents-nexocams-com/. Clips4Sale studios can join at https://www.nexocams.com/c4s-registration.
Images4Sale, Videos4Sale, and streaming video membership site C4SMembers are also part of the Clips4Sale online multi-media entertainment experience. For more information about Clips4Sale, go to https://clips4sale.com. Keep up with everything C4S by following them on Twitter at @clips4sale and @cs4updates and Instagram at @clips4sale.