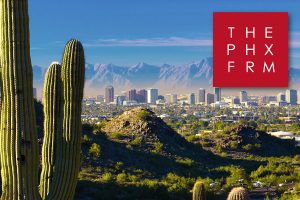 Tempe, AZ — CAM U, a full day of educational sessions dedicated to the business interests of cam performers, broadcasters and hosts, is coming to The Phoenix Forum in 2018.
Presented by YNOTCam.com, a "B2M" educational and community space for cam models, CAM U seminars will occur throughout the day on Friday March 23, 2018.
The Phoenix Forum (TPF) is a premier educational/networking event for the adult business community. Unlike larger exhibit-style tradeshows, The Phoenix Forum offers attendees a more relaxed face-to-face environment to interact with friends and peers. Chaturbate is this year's official Live Cam Performer Sponsor, and now — for the first time ever — TPF is also offering educational seminars dedicated to tackling issues relevant to today's webcam space.
There are four total CAM U seminars scheduled, including:
"What Models Want"
Cam performers have a lot of options when it comes to picking a cam network or studio as a partner. What do models look for when choosing between available platforms? Does it all come down to the payout? How important is the technology behind cam platforms, and how much do models consider how well they're treated by network and studio staff? Our panel of professional cam models share their thoughts on what models know they want from a network, as well as what questions they should ask before signing up.
"Expanding the Cam Market in 2018"
As one of the best ways to monetize adult content online, the live cams sector has enjoyed years of growth. But even the hottest business models can turn cold if they're not constantly innovating. We've assembled a panel of top executives from the live cam sector for a discussion on market expansion and live cams. What can the live cam sector and its models and affiliates do to hook new customers on live cam entertainment? What are the leading cam networks doing to keep customers engaged and coming back for more?
"#MeToo and Live Cams"
In 2017 a staggering number of women came forward with their stories of sexual abuse. The impact of these stories is still taking shape, even as more women continue to step forward to demand serious and signifcant changes to the culture. What impact has the #MeToo movement had on the adult industry, and how might it continue to force new dialogues and changes to the status quo? Does the live cam sector need to make changes too, or does it offer a unique opportunity for performers to stay in control in ways they couldn't do in the industry of the past? Our panel of women come from all over the adult cam sector, including both businesswomen and cam performers. Hear their thoughts on #MeToo and whether it's a problem for live cams, or instead an opportunity for the sector to distinguish itself positively from more traditional forms of adult entertainment.
"Proven Tactics for Cam Affiliates"
Not everyone has the resources to run their own cam network, but cam affiliates with online marketing skills can earn a lot of money by partnering with the right network and driving customers to their platform. In addition to traditional affiliates, cam models themselves can also act as "super affiliates" by using proven online marketing tactics to drive more viewers to their own shows. In this panel discussion we'll ask cam sector insiders about the proven methods used by top models and affiliates to maximize their cam payout.
This year, also for the first time ever, TPF organizers and Streamate are proud to offer free entrance for models. Active models, go here to request a pass: https://www.thephoenixforum.com/free-badge.html
Note: This badge offer is only active for a limited time and cannot be initiated on site during TPF. Register now to ensure your badge is waiting for you at the show.
For more information about CAM U, contact YNOT here.
See the full schedule for the 2018 Phoenix Forum right here.