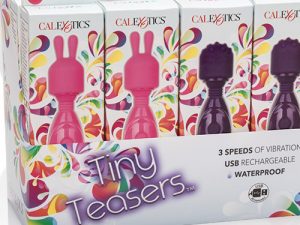 LOS ANGELES – Leading pleasure products provider CalExotics has announced the release of the "Tiny Teasers" collection, a four-piece set of powerful, rechargeable stimulators.
"Our customers have been eager to find a rechargeable bullet that offers a long battery life, is simple to use and offers a great value for their customers," said Susan Colvin, Founder and CEO of CalExotics. "My team has worked diligently to meet their needs, paying special attention to each feature and benefit. With the release of Tiny Teasers, I can say we've really delivered on this one."
Included in the collection are the Bullet and Mini Bullet, described as "discreet and powerful stimulators perfect for fun anytime, anywhere." The Bunny and Nubby are mini-massagers with removable silicone tips, offering users "a variety of ways to play, with tickling rabbit ears or pleasure nubs."
Each of the Tiny Teasers offers three different vibration speeds to choose from in a compact, discreet design. The four toys are also waterproof and USB-rechargeable.
The Tiny Teasers also boast a very long runtime. According to CalExotics, the bullets can operate at high speed for 70 minutes, and two hours on low speed, while the mini-massagers can run for 75 minutes on high speed and 160 minutes on low speed.
"Our main goal was to ensure these products would surpass others in the marketplace, and the runtime was one of the areas we paid close attention to. With such a small size, it was imperative we did not skimp on this factor" Colvin said.
The toys are also priced to move, retailing between $22 and $24.
CalExotics also offers a Tiny Teasers counter display for brick and mortar retailers, which comes with 12 devices; six of the Tiny Teasers Bunny and six of the Tiny Teasers Nubby
"A counter display is perfect for impulse buys and cross-merchandising," said Jackie White, Executive Vice President of CalExotics. "I recommend creating a dedicated Tiny Teasers section and keeping a counter display right next to the register. This will help boost sales of this fun and price-friendly collection."
For more information on the Tiny Teasers collection, as well as high-res promotional images, product videos and other detailed product information, visit CalExotics.com.