Webcam Studios (4)
Browse all Categories

Accounting Services
Adult Affiliate Programs
Adult Content Brokers
Adult Industry Business News
Adult Industry Consumer News
Adult Modeling
Adult Search Engines and Directories
Adult Staffing
Adult Talent Agencies
Adult Video Distributors
Adult Video Studios & Producers
Adult Webcams & Interactive
Alternative Online Billing
App Development Services
Beauty & Makeup
Clips Stores
Computer Hardware & Software Sales
Consumer Advertising Agencies
Consumer Websites
Copywriting and Translation Services
Dating Affiliate Programs
Desktop Software
Distributors & Manufacturers
Domain Name Brokers
Email Marketing
Equipment & Supplies
General Business Services
Hardware & Equipment
Health and Medical Services
Hosted Software
Hosting & Technical Services
Industry Resource Listings
Industry Trade Show & Events
Internet Security Services
Legal Services
Live Cam Affiliate Programs
Live Cam Networks
Magazine & Printed Media Distributors
Magazine & Printed Media Producers
Marketing & Traffic Services
Marketing Consultants
Merchant Account Services
Mobile Ad Networks
Mobile Affiliate Programs
Model Promotion
News & Resources
Non-Profit Organizations
Novelty & Lingerie Distributors
Novelty & Lingerie Manufacturers
Online Billing Services
Online Content Providers
Online Message Boards
Online Retail Stores
Other Affiliate Programs
Other Professional Services
Payment Services
Paysite Affiliate Programs
Phone Sex Services
Photographers & Videographers
Photographers and Videographers
Plugin Content for Websites
Programmers & Coders
Record Keeping and Age Services
Retail Affiliate Programs
Retail Store Supplies
Software & Scripts
Studios, Sets & Locations
Third Party Billing (IPSPs)
Thumbnail Gallery Posts
Trade Show Support Services
Tube Sites
Web Design & Templates
Webcam Studios
Website Hosting Services
Website Scripts
Website Traffic Brokers
White Label Content
Studio 20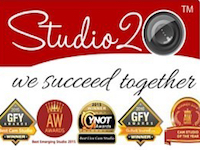 Founded in 2000 in Bucharest, Romania, Studio 20 is now a global network of studios all around the world.
Focused on glamour, professional, top models, Studio 20 is a benchmark in the live cam industry and the winner of all major awards year after year (AVN, YNOT, XBIZ, LalExpo, AW Awards).
A complete franchise system is available with both single unit local option and country exclusive franchisee.