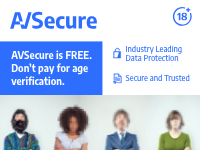 AVSecure has been designed and developed to be a leading worldwide age verification solution. The AVSecure Platform is built on blockchain technology with the associated security that comes with its encryption processes.

AVSecure enables the consumer to manage access on their local devices, not on an unrelated remote network. The consumer's browser becomes the central point in the process, not the servers or networks of content providers or identity providers.

The system has been developed to optimize protection of consumer anonymity, while at the same time satisfying the compliance requirements of age verification. The data protection techniques used are industry leading, thereby reducing additional risks to consumer privacy to a minimum.

A selection of age-authentication checks is offered to consumers via trusted third-parties who then validate them. The AVSecure software creates an anonymous 'root'​ access account for each cleared individual.

This is then used to generate one-off use tokens when consumers visit websites in the future. These one-off use tokens are passed to the website providers, but ensure that the consumers leave no traceable information.