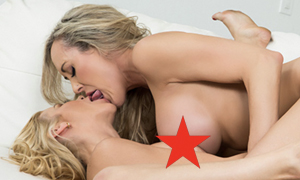 There are some questions that need not be asked, but we ask them anyway, probably because we like the answer.
Brazzers' new DVD poses one such question. The title asks Do You Like My Titties? and this second volume features Brandi Love, so the answer is simple yet resounding: YES!
By many measures Keiran Lee is one of the world's luckiest men and this scene may be as good an example as one needs. One night, while his wife out until late, he logs on to Brazzers for some fulfillment but before he can get too far the internet goes out. He places a call to Brazzers and the full-service company promises to make things right.
Soon Alexis Fawx and Brandi are at his door. Customer service at its finest! The team works hard to get his internet back up and then Keiran works to get his dick hard to properly thank them and you know he's not going to give them just the tip. The ladies are certainly satisfied with his service and Keiran is definitely a lifetime Brazzers members now that he realizes just how far the company will go to satisfy him.
Brandi wrote a "Five Reasons Why I Loved Starring in MILF POV Fantasy"piece for Fleshbot and, like everything else Brandi, it's sexy as hell.
She talks about how excited she was working for director Jonni Darkko and how the setup was "hot and natural" and "just right." She also says the POV-style scene is much better than most.
"Even being POV, the sex itself was very passionate and connected," she said."Sometimes POV can feel like you are disconnected from your partner but this POV did not feel that way and I believe it comes through on camera."
Brandi also stars in Teaching the Rookie (Fantasy Massage) with Uma Jolie, Sensual Moments 7 (Erotica X) with Chad, and the all-Brandi collection titled Girls of Bangbros Vol. 79: Brandi Love (Bang Bros).
Read "Five Reasons Why I Loved Starring in MILF POV Fantasy" online.