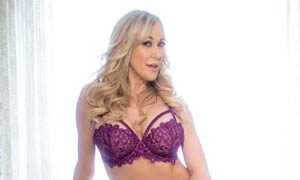 One of the most popular episodes ever of Oh Hey, Gays! podcast was an episode on porn talking about Brandi Love and now she's the exclusive interview on their latest upload.
Hosted by Sally and Sarah, the former conducts the extensive interview with Brandi. She became hip to Brandi while trying to figure out who Stormy Daniels is and stumbled on Brandi and, not surprisingly, went down a Brandi Love rabbithole and still refuses to come out. There's just too much beauty to explore.
"It was freaking insane," Sally says in her intro to the interview. "She's like the nicest person ever, and she's really funny, she's smart, she's got business…. I absolutely loved it, I'm still floating on air from talking to her because it was so great. I fist-pumped the air when we hung up and I'm already planning a new episode to do with her."
Brandi recounts the story about how she decided to join the adult industry, which is pretty amazing. They also cover the idea of female empowerment through the adult industry – a rare, real conversation about the topic with nuance and, of course, the perspective of an adult industry superstar with the ability to explain her position intelligently and coherently, something too often missing from such conversations. Not surprisingly they cover topics from sexuality to gay marriage to positivity and dealing with outside influences from the outside.
"Being true to yourself is absolutely the key," Brandi says. "Good things come when you're being authentic and doing what you love and have passion, which is the key word. Because of who I am, I'm always being asked things like, What's your favorite position? and What do you like about a scene?, all of those types of questions, for me it comes down to one thing: passion. That's the hottest sex you can have, it's when you're passionate."