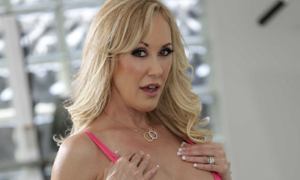 There are few adult superstars who draw a crowd like MILF of the Year Brandi Love and this week's Exxxotica Chicago is an opportunity for everyone to see why.
The beauty clearly helps and one can't dismiss the hundreds of hot scenes, adored by the countless masses. But she also has the personality and the rabid following that should have fans making plans to get to Brandi early before the lines get out of control.
"Exxxotica is a perfect opportunity to spend time with the fans and get their feedback and get to know them a bit," Brandi said. "Many I will know, many will be new, and it's a lot of fun to see everyone without a computer screen between us. And I can't wait to hang with my friends at the Bad Dragon booth!"
Exxxotica Chicago is Friday through Sunday, April 5-7, at the Donald E. Stephens Convention Center. She will be at the Bad Dragon Spotlight booth and spending enough time on the floor for everyone to get a little quality time with the beauty.
EXXXOTICA CHICAGO SIGNING SCHEDULE
Fri 6-10 pm
Sat 4-9 pm
Sun 1-5 pm
Look for Brandi in new DVDs like Trickery: Indecent Proposals (BANG!), Girls Kissing Girls 23, new from Sweetheart Video, as well as the company's  Mother Lovers Society 18. Also enjoy her in "Brandi Loves Latex" on the Brazzers website.
Exxxotica Chicago is April 5-7 at the Donald E. Stephens Convention Center. For more information check out the Exxxotica website.